When the non-profit organization Medical Aid Films (MAF) first approached ExperiencePoint, they wanted to learn how to spread awareness about their cause better and drive more donations. With the help of our newest virtual innovation platform, InnoLab by ExperiencePoint™, MAF was able to embark on a design thinking journey that would result in a new, exciting, comprehensive donation strategy.
This week's blog takes a detailed look at how the MAF team navigated the platform's unique features and followed a five-step design sprint crafted by ExperiencePoint to ultimately reach an innovative yet feasible solution.


Who is Medical Aid Films?


MAF grew out of the idea to create simple animations to inform community members about basic care during the delivery of a newborn baby. Today, the non-profit organization brings health experts and filmmakers together to create engaging, accessible media and communications – empowering health workers and communities worldwide with vital knowledge and skills.


The Goal


MAF's ultimate goal was to learn how to better market their cause by leveraging the content assets they already had in possession, like their instructional videos. In addition to optimizing its content assets, the organization also wanted to develop new ways to collect more donations and drive more money towards its cause. Having tried various brainstorming activities in the past, MAF had struggled to conceptualize innovative solutions that they could implement in reality.
Within five weeks of using InnoLab by ExperiencePoint™ and undergoing asynchronous and synchronous learning, the team focused their queries, generated ideas, tested prototypes, and ultimately landed on viable and realistic solutions.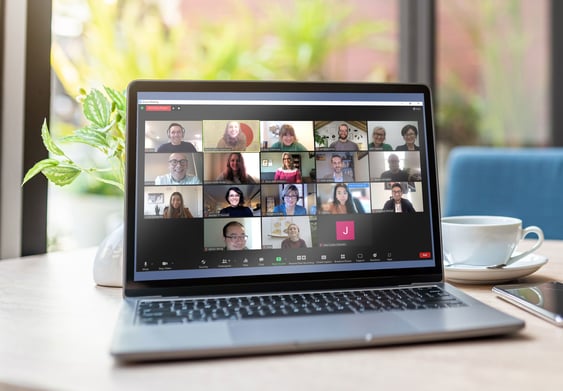 The Journey: InnoLab by ExperiencePoint™


1) Start With a Challenge
MAF started their InnoLab journey by first learning how to frame their business challenge around adding a particular benefit to a user group. Broken up into various teams, MAF emplored a 'how might we?' framework to be specific about whom they're trying to help and why they're trying to help them.
By the end of this stage, teams were able to reimagine their business challenge as approachable questions like: 'how might we transform the way our donors see us?" or "how might we help donors really understand what we do and feel motivated to support us?
2) Explore The Opportunity Space

Next, MAF explored sources of inspiration to think creatively about their challenges and identify extreme users, people who can provide unique customer insights because they are at opposite ends of your buyer persona.
The team interviewed various extreme users, including ones that donate more than three to five times a year versus those that had never donated in their life. Afterward, the teams summarized findings to leverage insights in their next step.



3) Make Sense of Findings
With the data they collected from interviews, teams then formed insights by asking why a particular user behavior occurred. Using the prompt, 'I wonder if…', the team reached insights like:
I wonder if sometimes people contribute because they feel personally connected to the cause?
I wonder if people sometimes donate because they hear of a tragedy and their emotional reactions compel them to do something about it.
I wonder if sometimes people feel upset because they aren't personally connected to charities as they once were.


4) Generate Solutions

Using an insight worksheet to guide their way, teams picked their top insights and then pushed past apparent solutions to develop breakthrough ideas in a brainstorming session. All ideas were considered, debated, and built upon during the session—the more ideas generated at this stage, the better.
After brainstorming, teams built upon their ideas using an interactive template to visualize and plan out their solutions (Fig 1). Using popular emoticons, each team member can express their feedback in a fun way.
Fig 1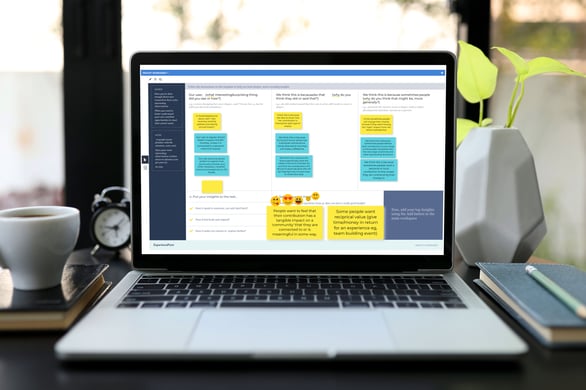 5) Prototype and Test

In their final stage in the InnoLab journey, participants tested low-fidelity prototypes in a series of quick and cheap experiments that converted assumptions into knowledge. Teams were encouraged to be visual and use storytelling to make their prototypes come alive.
Participants created detailed storyboards to showcase how users would interact with their prototypes in everyday life. One team created a storyboard that showcased how branded mobile charging ports in hospitals could target key buyers, spread cause awareness and garner donations (Fig. 2). Another team looked at potential partnerships with banks to leverage round-up features that could drive donations directly from donors' accounts. Afterward, participants completed experiment planners to design ideal testing and then shared their concepts with their peers.
Fig 2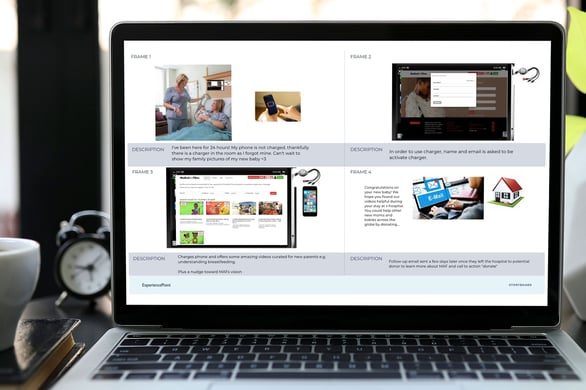 Reflect & Integrate

After completing InnoLab's five-stage framework, participants reflected upon their experiences and the mindsets they learned. Participants used InnoLab's analytical dashboard (Fig. 3) to see an overview of their team's performance, including a final count of submitted prototypes. A representative from each group then shared feedback, and together, all participants and facilitators reviewed how to integrate design mindsets into their day-to-day work.
After the sprint was completed, each participant received a comprehensive PDF of their sprint journey cataloging their brainstorming efforts, ideas and testing in one place. Participants can implement design practices more quickly by having an easily accessible report like this at their fingertips. As a result, the entire InnoLab experience introduces participants to design thinking and helps them sustain those new ways of thinking.
Fig 3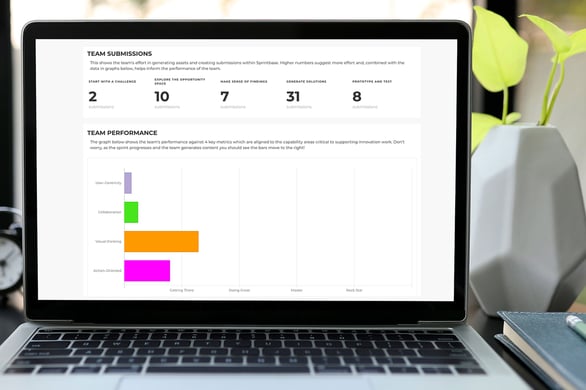 The
Outcome

InnoLab by ExperiencePoint™ bridges the 'learning to doing' gap and enables users to immediately tackle real projects with new mindsets. In using the platform to guide their sprint journey, MAF could think and strategize in ways they couldn't before. InnoLab's interactive features and framework fostered collaboration and taught the ability to react quickly under pressure.
As a result, InnoLab by ExperiencePoint™ strengthened participants' cognitive skills, provided a structure for problem-solving, and cultivated future-proof employees who can react to change immediately. In an age when organizations constantly face rapidly changing environments, the ability to respond, reason and problem-solve is unparalleled. Organizations like MAF that embark on design sprints and become familiar with rapid and creative problem solving will conquer the unknowns of the future.
---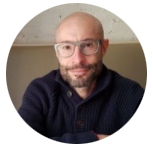 "Carving out focused time to research during a hectic work time is challenging. I rarely sit at my desk and just think; I'm usually consumed by action. This sprint set time aside to sit back and think about something, almost academically, which was a genuinely fulfilling experience. The power of contemplation is a forgotten art in the digital age."
Steven Zarnfaller
Project Manager, Medical Aid Films
---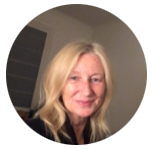 "I would like to thank the ExperiencePoint team; you have changed MAF through this sprint. It has been a fantastic experience — we gathered so many insights and learned a whole new way of thinking. Rest assured that we will be working away on those brilliant ideas and look forward to working with you in the future. Thank you for the fantastic opportunity."
Catherine McCarthy
Chief Executive Officer, Medical Aid Films
---
---