It's impossible to overstate our love for our facilitators! Indeed, our work has impact because of this select group of individuals.
As a 'thank you', we recently organized a very special event at IDEO's world headquarters in Palo Alto, CA. On September 28th, 35 enthusiastic ExperienceInnovation™ facilitators from around the globe united for a day of learning and extraordinary fun.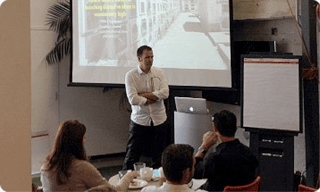 Andrew Webster of ExperiencePoint and Peter Coughlan of IDEO were the Masters of Ceremonies and guided our group through presentations from IDEO consultants that reflected the design firm's latest thinking: Abbe Don spoke on bringing innovation and change to the medical system; Alex Casternallau described a POV on how organizations can successfully invest in disruptive innovation; Ela Ben-Ur offered a perspective on how to build consensus among stakeholders on innovation projects; and Silvia Vergani shared techniques for hybrid qualitative / quantitative research.
Additionally, design thinking "booster shots" helped our facilitators practice both frame design challenges and synthesize research findings. The group also received a preview of Tom Kelley's forthcoming book on "Creative Confidence" (delivered by the author himself!) and a detailed tour of the IDEO campus (thank you Scott Underwood!)
The day ended with an exciting brainstorm where ourfacilitators helped shape the future of ExperienceInnovation™'s evolution.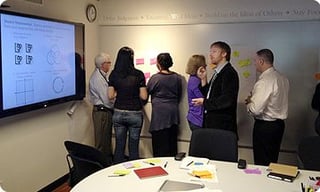 The reaction from our facilitators was overwhelming. Individuals have described it as "life changing" and "a career highlight." Some other samples:
"When I was little and having a great time or an extraordinary experience, my mother would tell me to 'put it in a bottle.' The days at IDEO were most certainly qualified as time to put in a bottle."
– IAN CARSWELL
"Thank you for supporting this DT community. Friends of mine want 'in' when I described the amazing experience we had connecting with the design community."
– ELLEN SHAFER
"One of the best workshops I have ever attended: a perfect blend of interaction, stimulating ideas, and immersion in DT world."
– ROY GLEN
"When's the next one?"
– SCOTT UNDERWOOD
Naturally, we owe a huge thanks to IDEO for hosting the day and specifically to Peter Coughlan, IDEO's chief designer of ExperienceInnovation, tour-guide extraordinaire, and coordinator of IDEO's contribution to the day. Thanks are due as well to Stanford's d.school for hosting a tour the evening prior and to the entire ExperiencePoint team who worked tirelessly to set the day up for success.
And of course the biggest thank you of all goes out to all of our ExperienceInnovation™ facilitator participants whose energy, ideas and enthusiasm made it an enormously successful day!