Attendees at the Association for Change Management Professionals (ACMP) Global Conference in Los Angeles participated in a hands-on workshop by Amy Haworth from Citrix, and EP's James Chisholm, as they shared the story of how ExperienceChange™ is playing a key role in Citrix's change management Center of Excellence (CoE).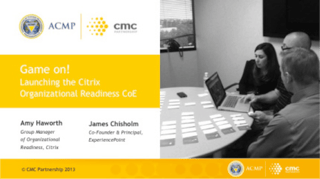 Citrix recognizes the importance of effectively managing change and the CoE exists to nurture this capability throughout the company. From enlisting executive support, to teaching change through ExperienceChange™, to office hours, and building a community of Change Catalysts, Citrix's CoE approaches the challenge holistically and with the practitioner experience at its core.
Many attendees commented on the strength of the integrated solution and the simple idea that learning how to lead and participate in change need not be a dry and dull exercise. Learning how to lead change should be a fun, engaging experience that leaves people ready and motivated to apply what they've learned, while positioning the organization's change experts as the superstars they are!
For those unfamiliar with ACMP, it's a fast growing global association of change management practitioners who come from a wide range of organizations – from Fortune 500 to independent consultants (and everything in between). This year's global conference had almost 1000 attendees – up from 800 last year – and chapters are forming in major cities across the globe.
The presentation in LA was so well received that Amy and James have been invited 'across the pond' to present an update at the ACMP's Europe Conference in London on Oct 1-3, 2013. Please drop James an email if you're also planning on attending or if you'd like to learn more about ACMP.