At ExperiencePoint we've been tremendously fortunate to have had help from many different people in many different ways over the years. We're very thankful, and giving back is an important part of our culture. So, too, is partnership. Over the past year we've teamed up with several partners to provide change and innovation training to some incredible not-for-profits. Here's a recent story we're delighted to share.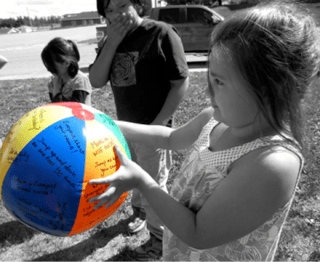 "What a brilliant idea. By extending the use of your products to partners who can in turn provide high quality executive education to not-for-profits, you make it possible for us to reach out to help leaders extend the impact of those important organizations. These are people doing important work and they are now better equipped because of ExpereincePoint's generosity. Thank you for bringing together our organizations in such a simple yet powerful way!"
Michele Milan, Chief Executive Officer, Rotman Executive Program
University of Toronto, Rotman School of Management
This summer, Executive Programs at the Rotman School of Management, partnered with Sherry Campbell, President & CEO of Frontier College, to incorporate the ExperienceChange™ simulation into Frontier College's three-day Strategic Planning meeting. Professor Joseph D'Cruz, Professor Emeritus of Strategic Management, led 25 of Frontier College's staff from across Canada through an intensive one-day ExperienceChange™ program.
Being a Leader of Change
As Canada's original literacy organization, Frontier College has been recruiting and training volunteers to work with Canadian children, youth and adults from coast to coast since 1899. Their mission is clear: work with volunteers and community partners to give people the skills and confidence they need to reach their potential and contribute to society. Frontier College is truly a pioneer of leading change in communities across Canada.
Current Change Initiatives
One area of change in which Frontier College is focused on is managing the increased demand for their literacy programs with limited funds. Frontier College has grown from a small to a medium sized not-for-profit organization supporting over 3,000 volunteers.
Abby Robins, Director of Communications, shared that one program which has experienced tremendous growth over the past eight years is the Aboriginal Summer Reading Camps. Initiated by former Ontario Lieutenant-Governor James Bartleman, who recognized the importance of empowering First Nations children and youth to overcome the challenges they face with the power of literacy, the program has grown from five to over 80 summer camps in remote native communities across the country.
"Organizational growth can be a challenging change initiative. With consistent communication of the organizational vision and values in addition to maintaining stakeholder and volunteer engagement, growth can be a positive change for all involved."
Professor Joseph D'Cruz, Professor Emeritus of Strategic Management
University of Toronto Rotman School of Management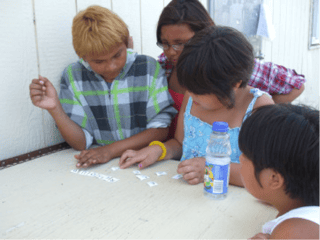 Putting the Experience into Practice:
With Professor D'Cruz at the helm, the staff of Frontier College, took on a challenge outside of their daily realm on the first day of their three-day meeting. The challenge: Save GlobalTech!
Halfway through the experience, we received the following Tweet: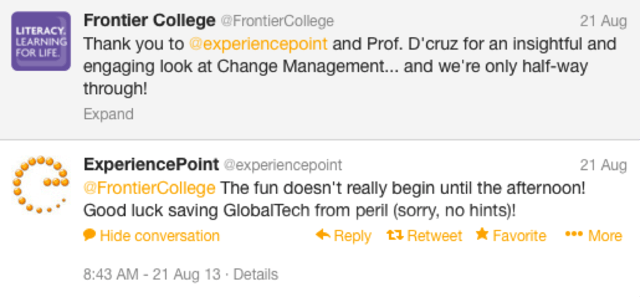 Not only did the staff come together to take on the challenge of the simulation, but the experience provided the group with benefits beyond learning change. With the geographical space between the team at Frontier College, the Regional staff typically only meet and work together (in person) twice a year. The one-day ExperienceChange workshop provided the already tight-knit management team with a day of teamwork, problem-solving and fun. It was observed by Professor D'Cruz, that the participants built deeper professional connections, increased levels of trust and a sense of belonging within the organization.
When asked about the power of simulations, Michele Milan spoke to the unique experiential environment a simulation can provide: "The use of play and fun within a learning environment provides individuals with the unique opportunity to look at alternative ways to problem-solve." Abby Robins echoed this statement. "In some instances within the not-for-profit sector, emotions can come before logic when making key decisions. A key takeaway from this experience was the change in perspective and ability to review challenges in an alternative way."
A few hours later, we received the following tweet: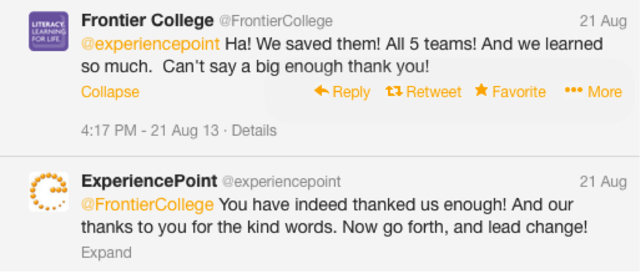 Not only did all five teams accomplish the goal and "save" GlobalTech, but they took the experience into their last day of strategic planning with new energy and a renewed outlook:
"The leaders of Frontier College were not only changed by the experience but it changed the kinds of creativity and discussions we had the second day when we began to focus on the next Strategic Plan. It will continue to resonate throughout the organization, help us inspire our volunteers and impact the marginalized people and communities we serve"
Sherry Campbell, President & CEO, Frontier College
The team at ExperiencePoint is grateful to Rotman Executive Programs at the University of Toronto's Rotman School of Management: Michele Milan and Professor Joseph D'Cruz and the entire team at Frontier College. Your work within the community is an inspiration to us and we are thankful that we could contribute in a small way to your meaningful work.