ExperienceInnovation™, ExperiencePoint's award winning simulation, has been helping groups of 12-40 people engage in a new approach to innovation since 2011. With some clever technology, ExperienceInnovation™ has been enhanced to engage hundreds of people at the same time in the same great experience.
Our partners at the Melbourne Business School: Mt Eliza Executive Education recently hosted an ExperienceInnovation™ at Scale workshop with 180 senior leaders from a major Australian commercial and personal insurance company. The company realized that it must become more flexible in the face of change, enter new markets, develop new insurance products and adapt to new circumstances as they unfold.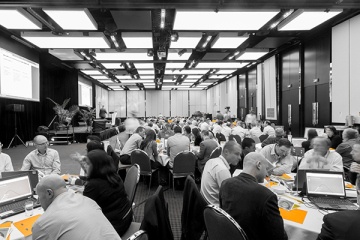 The workshop, facilitated by Dale Bracegirdle, was the start of a broader approach for the organization: to provide world-class products and services that start with a customer's needs and to quickly become design thinking champions.
Following the workshop, ExperiencePoint connected with Dale on the experience:
What was it like to facilitate, ExperienceInnovation™ at Scale?
Facilitating ExperienceInnovation™ at Scale was amazing.
There was enormous energy in the room for the entire experience. A key reason for the energy was due to having five 'Helpers' from the client organisation who managed the process. Each Helper had previously experienced ExperienceInnovation™ as part of our Agile Leaders program and each managed a group of 7 teams who were competing with each other.
ExperienceInnovation™ always delivers great simulation content and action-learning activities. ExperienceInnovation™ at Scale connects with so many more people at once through the connection with each Helper and the team competition. The Facilitator empowers the Helpers to lead and manage their group of teams, encouraging play, sharing of information, and reflection of their learnings as we went along.
It was highly rewarding to facilitate a large scale ExperienceInnovation™. To touch this many people typically takes us 7-10 separate simulations, so it is a huge time-efficiency while still maintaining the immediate personal impact that is so beneficial.
How did ExperienceInnovation™ deliver on the client need?
The simulation enabled participants to 'feel' what it was like to do design thinking. They experienced ways of energetically collaborating, prototyping and experimenting to solve problems and drive change in their organization. Within the highly regulated financial services sector, it has been found that it is easy for user desirability to be considered as an after-thought to feasibility and viability when developing products and services for customers. After engaging in ExperienceInnovation™ at Scale, hundreds of participants walked away with a set of tools for becoming much more divergent in their thinking, developing greater understanding of how their customers think and feel, and how to design solutions that really start with meeting their customer's needs.
Are you excited to be able to use ExperienceInnovation™ at Scale with future clients?
Absolutely. ExperiencePoint provided us with an enormous amount of support through the process. We learned a huge amount about managing logistics for a large scale ExperienceInnovation™ and feel excited to do this again very soon. We are motivated to help our clients to build their capability to innovate. Delivering the simulation on a large scale helps rapidly embed this capability in greater numbers and that's exciting to be part of.
Dale Bracegirdle, Mt Eliza Executive Education
Consultant – Executive Education, Open Sector and Learning
d.bracegirdle@mbs.edu
---
About the Melbourne Business School: Mt Eliza Executive Education
Mt Eliza is the executive education arm of Melbourne Business School, part of the University of Melbourne. MBS – Mt Eliza is ranked the number 1 executive education in Australia by the Financial Times and has Australasia's largest academic faculty and associate network to draw upon for executive education provision. It prides itself on working in partnership with organisations to co-create fully customised solutions to meet their specific learning and organisational needs. It also has an impressive Open Program portfolio suitable for leaders at all career stages, across all fields. MBS – Mt Eliza designed (and continues to deliver) a customised program called 'The Agile Leaders Programme'. The goal of the program is to build leadership capability of their global senior leadership group to react more quickly to events. ExperienceInnovation at Scale is a feature of their delivery of Agile Leaders.
---
What's the secret behind companies often regarded as Game Changers?

Your free PDF download includes our perspective on the two key disciplines that allow companies to develop the instincts to create great solutions and the reflexes to make them a reality. Download your copy today!