Adam was first introduced to ExperienceInnovation™ through his work with the University of Georgia. Following the initial introduction, Adam attended an ExperienceInnovation™ certification program in Boston.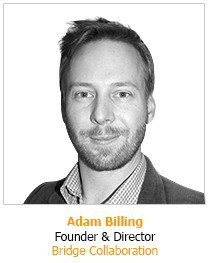 Over the past two years, Adam has been using ExperienceInnovation™ within his practice as a tool to provide clients with a crash course on design thinking and Innovation. "It allows people to apply the learnings really quickly so they can actually start using it within their daily lives."
Now as a Master Facilitator, Adam is equipped to support his clients who are interested in cascading the ExperienceInnovation™ experience throughout their organizations all while keeping in direct contact and supporting them on their journey.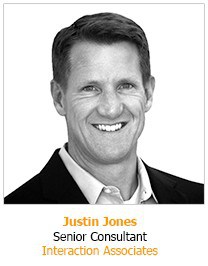 "Master Certification is important to Interaction Associates, as we see ExperienceInnovation™ and design thinking as powerful new tools to offer our clients in collaborative problem solving. As a Master Facilitator, I can support our global consulting team in supporting innovative processes and skill transfer for our clients. We can now also support client systems who wish to engage their internal resources to lead ExperienceInnovation™ sessions. Our investment in Master Certification demonstrates to our clients how deeply we believe in the power of design thinking and in the learning that's available through ExperienceInnovation™.
I first became certified in early 2012 and then had an opportunity to lead ExperienceInnovation sessions in a variety of global and US national organizations. This work included both standard delivery of the simulation, along with increasingly customized versions or pairings of the simulation with specific problem solving work. My favorite among these engagements has been working with action learning teams to apply design thinking to real business challenges on a global scale.
As design thinking and innovation have grown in interest among our clients, we inquired with Greg Warman, Co-Founder and Principal, and Andrew Webster, Director, Change and Innovation Solutions, at ExperiencePoint about new opportunities to deepen our organization's capabilities to offer ExperienceInnovation™ to our clients. I began with Master Certification work in December of 2013. I was impressed with the support from both Greg and Andrew, and with the rigor of the Master Certification process itself. Their coaching in advance of the certification training, and their detailed feedback afterward has helped me take my practice of design thinking to new and exciting levels, while also providing powerful learning opportunities to our newly Provisionally Certified consultants.
My heartfelt thanks to Greg, Andrew, as well as to Armand Khambatta who supports our account and clients, and to Tanya Bell, who is tireless in her support of our every logistical request. We are so proud to be partners with ExperiencePoint in bringing design thinking to the world."