As economic uncertainty tightens HR budgets, learning and development professionals are under pressure to deliver training that guarantees results. In this blog, we will outline the essential elements of award-winning training to help you ensure that your next one brings lasting change.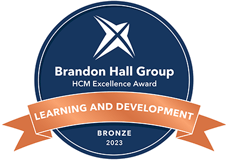 Last year, leading tax and accounting firm Baker Tilly US faced a unique challenge: they needed to organize a company-wide learning event that would inspire professionals in light of recent changes and ensure that lessons learned would carry into the new year after the holidays.
Due to a recent integration of several smaller organizations, Baker Tilly recognized a need to bring people together and align its workforce with its core values for success. In partnership with ExperiencePoint, Baker Tilly embarked on a multi-month journey to change behavior in the organization and create lasting results. It culminated in a three-day experience that equipped its leaders with essential power skills, including the ability to collaborate internally, develop a client focus and communicate the organization's value. The program not only ensured a tangible impact on the business but ultimately earned a prestigious Bronze Brandon Hall Group 2023 Excellence Award as well.
But what exactly made this training program award-winning? Let's dive into three key elements that set this program apart and made it a shining example of excellence in leadership development:
#1 Prioritizing the immediate application of new power skills

The first key to success was the immediate application of newly acquired power skills. According to Baker Tilly's Sr. Learning Manager, Jennifer Crowfoot, there was an emphasis on fostering a human-centered mindset among their people to help them identify and tap into new business opportunities.
"[A human-centered approach to business] creates better conversations with clients," Crowfoot said. "It creates more opportunities for us to build our pipeline and it gets our people to look at things differently."
"[A human-centered approach to business] creates more opportunities for us to build our pipeline and it gets our people to look at things differently."
- Jennifer Crowfoot, Sr. Learning Manager at Baker Tilly US
With Spark by ExperiencePointTM, an interactive series on human-centered design and change, people were also able to practice these methods hands-on. This approach made all the difference in terms of retention for Crowfoot. People were more likely to apply skills they had already practiced than skills that they had only heard about. As Crowfoot puts it, "I'm more likely to retain it if I know how to use it."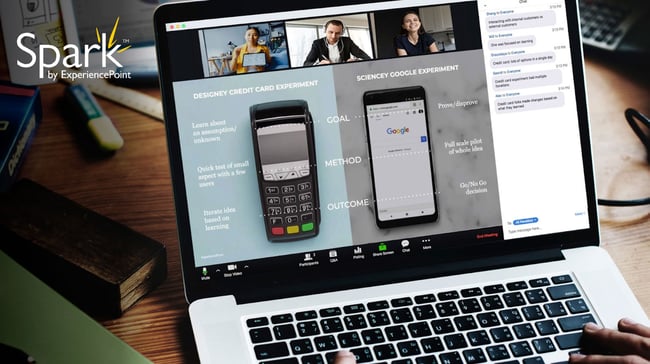 Want to supercharge your learning so it sticks

the first time around?
Spark by ExperiencePoint™
offers quick bursts of micro-learning to reinforce the power skills your people need for strategic success.
Discover how sustainable learning experiences like Spark can enhance your training program.
#2 Creating the right conditions for continued learning

Baker Tilly's training program further distinguished itself by promoting continuous learning after the experience ended.
To establish the right environment for long-term success, it cultivated conditions favorable for embracing new behaviors. As highlighted in Baker Tilly and ExperiencePoint's ATD webinar on Accelerative Business Impact, they incorporated three conditions into their people's workflow:
Rhythms: Regularly scheduled meetings like daily huddles
Systems: Platforms to manage and measure new habits like project management software
Channels: Digital spaces to connect and collaborate as a community like Slack
As a result, the program helped create a culture where learning and growth are not only encouraged but also ingrained into the very fabric of the organization.
#3 Aligning learning with business strategy

Another standout feature was the training program's alignment with the organization's strategy. From the outset, Baker Tilly identified three goals crucial to its growth, including ramping up customer-centricity and designing new offers to help differentiate the company in the market. ExperiencePoint helped support these objectives with engaging experiences that were woven into the fabric of the entire training event. By the end of the event, the organization had met all three goals.
"This [award] represents a shift for us in going from helping people learn things to helping people learn things in service of a larger measurable goal," said ExperiencePoint co-founder and partner Greg Warman. "We can confidently say that we can align our training with their strategy and deliver results."
"We can confidently say that we can align our training with their strategy and deliver results."
- Greg Warman, Co-Founder and Partner at ExperiencePoint
Even after the event's conclusion, Baker Tilly established touchpoints to gauge and monitor its impact. For example, one of its goals was to create more cross-functional collaboration. As a result, leaders started measuring meeting frequency and shared weekly progress. This approach not only ensured that the organization was achieving its strategic goals but also ensured that everyone involved shared in that success, too.
Unlock the path to award-winning training
Ultimately, the training program was award-winning due to three elements any organization can adopt: it primed newfound power skills for immediate application, ensured the right conditions were set for lasting learning and aligned the training with business strategy.
Ready to achieve more with your training?
Discover how ExperiencePoint workshops can support your strategy.