In a post-pandemic world, pharmaceutical companies are in the public eye like never before. There's renewed pressure on the industry to innovate and address emerging patient needs with agility and speed. This mounting pressure has left our clients in the sector asking the same question: How can they make time to train employees to be more innovative in an industry that moves at breakneck speed and can't afford the luxury of pausing?
At ExperiencePoint, we've worked with major pharmaceutical companies who struggle to balance the need to drive innovative ideas with the fast-paced demands of their industry. The two priorities can feel like they're in direct competition. It takes time to train people to think creatively and apply innovation techniques to their everyday work. And hours spent training can feel like hours stolen from other tasks; time is always a limited resource.
This perennial conundrum is where the ExperiencePoint approach to training distinguishes itself. Our method for building employee capability makes learning and working one and the same thing. By pegging innovation training to a project or challenge that's already in process, the approach never takes employees away from their work. Instead, all learning is in service of moving the needle on local problems that employees are already contending with. So the Catch-22 of needing to pause, while being simultaneously unable to pause, is effectively eliminated. The work never stops, and neither does the learning. (ExperiencePoint recently co-presented a talk on precisely this topic with Robin Cohen, Head of Talent Management, Pharmaceuticals and Enterprise R&D at Johnson & Johnson, at the Training Conference and Expo in Orlando.)
In our last blog post, we explored how design thinking can navigate the complexity of the pharmaceutical industry, and help brands figure out how to carve out new market space. In this article, we'll take a look at how two of our biggest pharmaceutical clients have leveraged human-centered training to develop employee capability, identify market opportunities and build cultures of innovation.
Making a company's culture as innovative as their breakthrough drugs
ExperiencePoint recently worked with a global bio-pharmaceutical company that manufactures some of the world's most important medications for autoimmune diseases and depression. Despite a strong track-record of breakthrough work, the company sensed that something was lagging in their internal culture. Protocols moved slowly and legacy colleagues were resistant to change. Executives knew they needed to find a swift and effective way to turn things around.
The company envisioned innovation training that would touch every part of their organization and apply to advanced senior scientists and administrative professionals alike. ExperiencePoint helped the company build a team of catalysts—employees who help cascade human-centered design throughout an organization—by targeting ambitious people in various departments across the company. We proceeded to train the 20 selected catalysts in ExperienceInnovation™ Apply, a hands-on workshop that pegs human-centered training to a relevant company project, and Train-the-Trainer, which just received the Best Facilitator Award from NovoEd, the leading social and collaborative learning platform for deep capability building. These catalysts then kickstarted ExperienceInnovation™ training among 80 other employees and sold its success back to executives.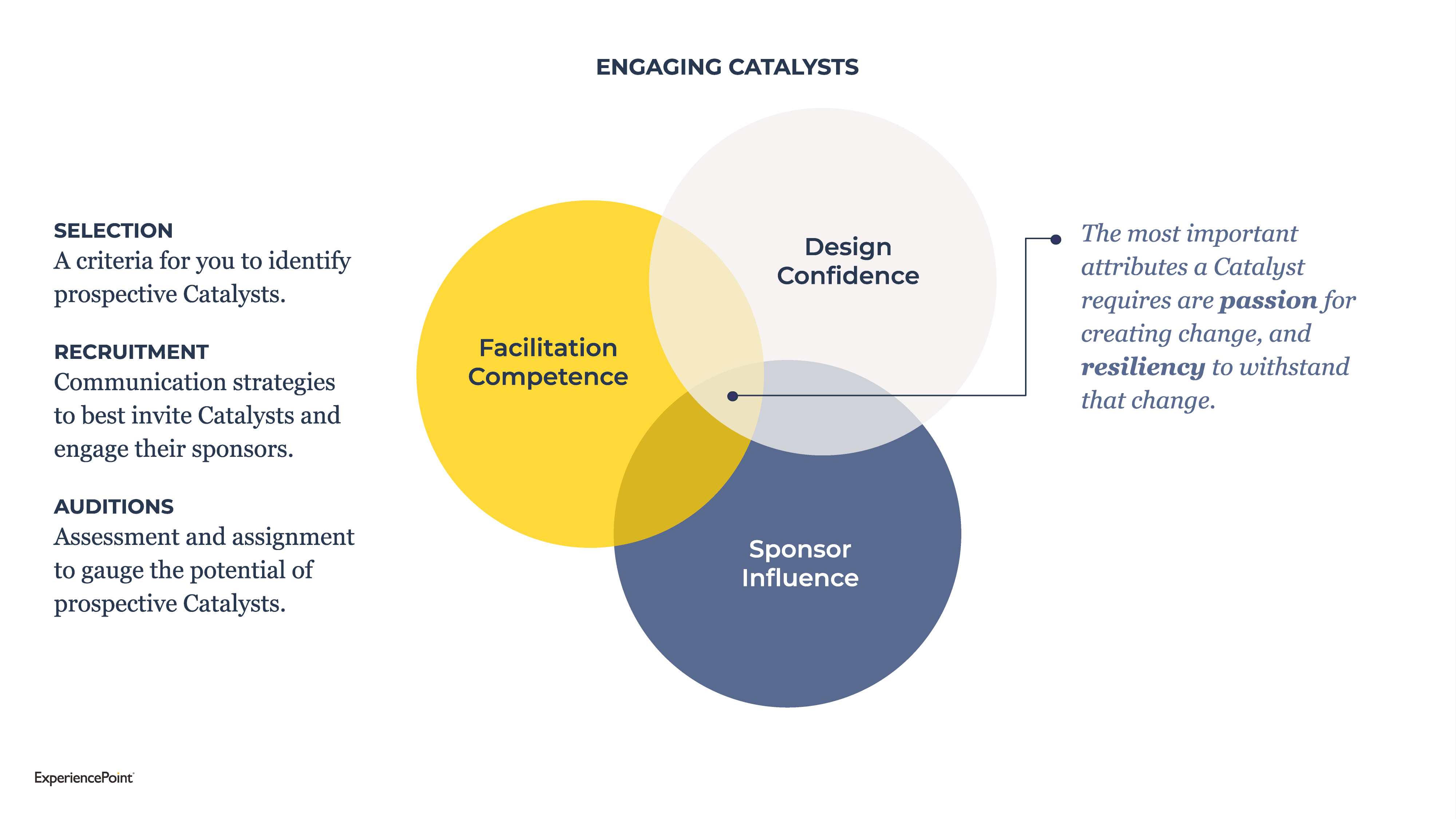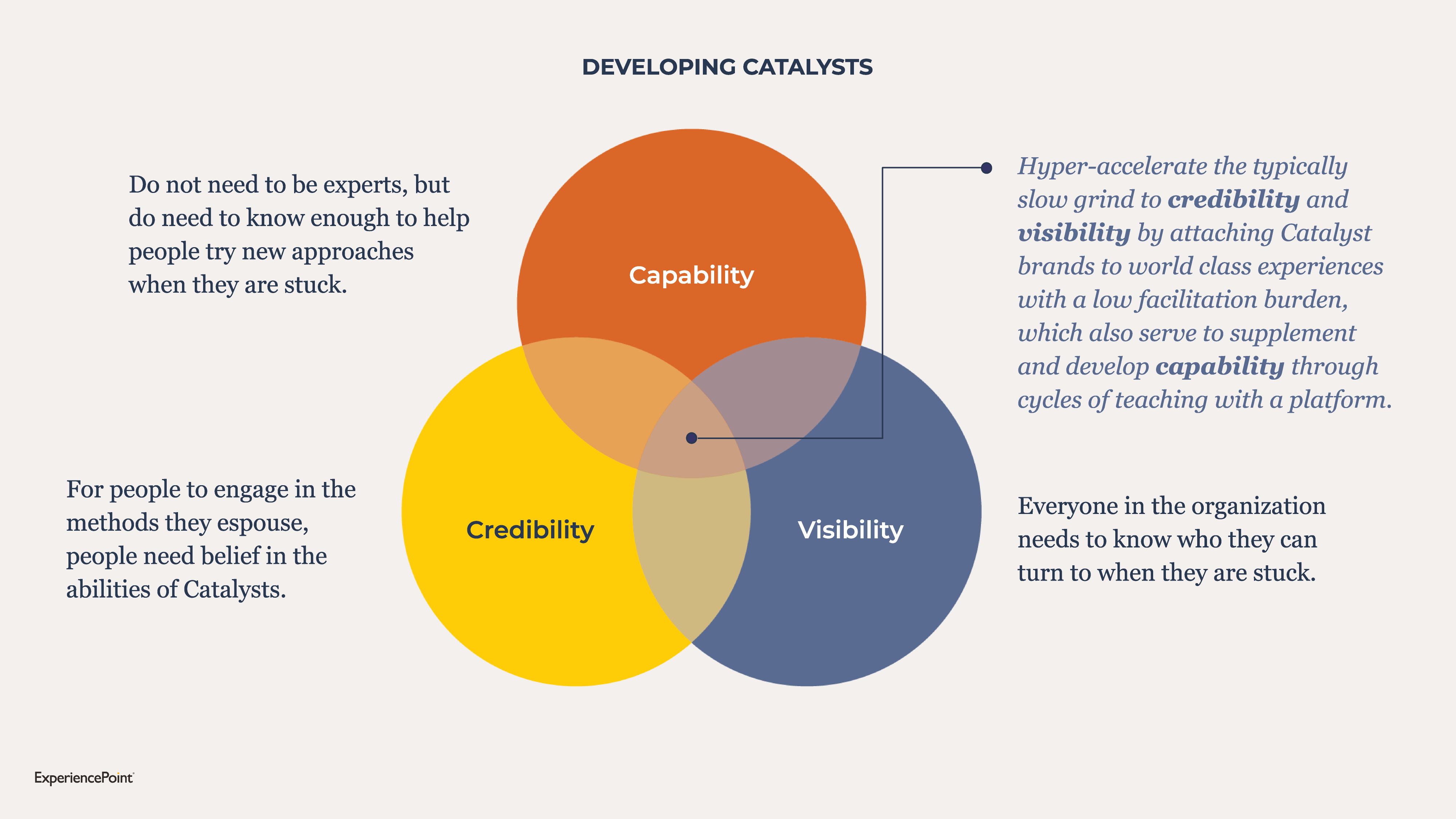 Innovation training is scaled across the company by engaging and developing internal catalysts.
The training has brought innovation to all corners and facets of business. In research and patient care, new problem-solving skills have sparked the development of tracking accessories for dermatological diseases. In biotech, our training has sped up progress towards virtual drug testing. In terms of culture, a new system has facilitated collaboration between senior managers and younger employees, streamlining the protocol review process and maximizing the diversity of perspectives. Numerous other services have been radically optimized through our training in design thinking. In a nutshell, ExperiencePoint's training has kickstarted new practices and systems across the company, changing how people collaborate and approach their work every day.
From a lumbering cruise ship to a nimble set of jet skis
The supply chain of a world-renowned pharmaceutical/healthcare company came to us after previous innovation training had failed. With nearly 150,000 employees located around the globe, the company is an established industry leader. While its size reflects its massive success, the Chief Supply Chain Officer described the company as "a lumbering cruise ship that needed to become a nimble fleet of jet skis." The market was changing, and the organization needed to keep up with rising competition from new medical technology companies. Employees needed a clearer understanding of how to integrate agile behavior into their work in order to tighten key processes and move more swiftly.
Using ExperiencePoint's Enterprise Solutions, our unique method for scaling innovation across an organization, the company aligned 200 executives around the world who underwent design thinking training, which involved in-depth interviews with people across the business.
An explanation of our unique method for workplace transformation
The executives proceeded to train numerous facilitators who could cascade human-centered design across departments. These leaders in human-centered design were then able to guide their respective teams through innovation initiatives, supporting their adoption of creative and agile behaviors in new process and product development, testing and rollout. Within months, innovative skills and mindsets became a regular part of how employees engaged with their work. Read the company's pandemic case study for a fascinating example of our innovation capability system in action!
The company now innovates across numerous departments, having trained more than 5000 employees to date. The training has improved speed to market, product development efficiencies and security and brand protection. Noting company-wide success, another department proceeded to jump onboard with ExperiencePoint's catalyst training, and now uses human-centered strategies to solve complex talent issues, including diversity and succession management. ExperiencePoint's training has had a profound impact on employee engagement: The thousands of company employees who have completed ExperiencePoint's training rank much higher than those who have not.
These are just two of the many pharmaceutical brands that we've helped achieve meaningful goals by changing company culture. Speed and agility are key concerns in the world of drugs and patient care. Our approach to training is uniquely suited to keep these imperatives in mind because we ensure that learning and working happen simultaneously. All learning is pegged to projects already on the go, ensuring that employee work is never stalled.
Interested in learning more? Innovation can't wait and we want to start our journey together. Get in touch!