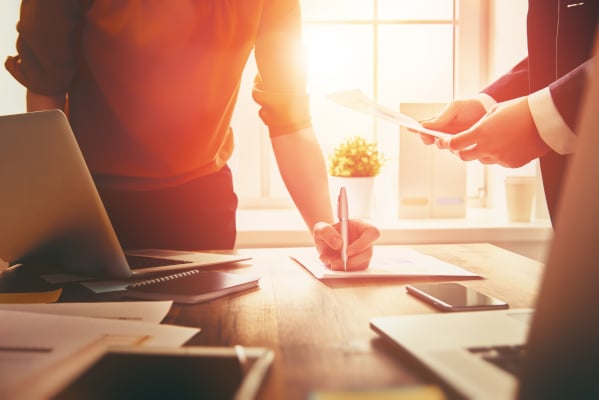 Apple is about to lose another icon of design, officially signaling the end of an era for one of the world's most celebrated design thinking organizations. Chief design officer, Jony Ive, announced in June that he is leaving the company at the end of the year to open his own design firm, called LoveFrom.
It's a shocking (though not totally unexpected) shift for Ive, who has been in charge of Apple's design team since 1996. As a close ally of Steve Jobs, he is widely credited with creating the culture of innovation and design thinking that led to some of Apple's most iconic products, including the iPhone, the iMac, and the Apple Watch, along with the company's retail outlets and state-of-the-art headquarters. He and Jobs had a shared vision that ultimately made Apple one of the world's most profitable and respected companies.
When Jobs passed away, he handed the torch to Ive, and now many wonder who will have the design chops to carry the company forward.
In all of the products and projects he touched, Ive clung to the idea that when you start by asking what customers want, then design products to answer that question, you will delight and engage your users — and earn billions of dollars in the process. That approach worked, over and over again.
Along with being a hero at Apple, Ive is considered to be one of the most iconic industrial designers in the world, and has received countless awards, museum shows, and even the title of knight commander of the British Empire for "services to design and enterprise."
Ive will take that commitment to customer delight with him to LoveFrom, a name that comes from a memory he has of Jobs telling a group of employees that even if they never meet the people who use the products they design, if they make something with care, they will be expressing their gratitude to humanity. "I so identified with that motivation and was moved by his description," Ive told the Financial Times. "So my new company is called 'LoveFrom'. It succinctly speaks to why I do what I do."
Meanwhile, noone has been tapped to take over the CDO role at Apple. Instead, Evans Hankey, vice president of Industrial Design, and Alan Dye, vice president of Human Interface Design, will drive design at Apple, reporting to COO Jeff Williams to fill the gap.
Apple's stock prices fell slightly following Ive's announcement, though they've since rebounded, and some argue that this could be a good thing for the design culture at Apple. Fast Company journalist, Mark Sullivan, argued that Ive's departure, along with and other changes, reflect the ongoing evolution of Apple's design culture — away from crediting a single guru for every decision, to putting these choices in the hands of many Apple geniuses. Ive was a cult leader at Apple. His departure could give other Apple experts a chance to shine, and allow big ideas to flow from multiple founts — which after all is at the heart of design thinking.
And Ive isn't going too far away. LoveFrom counts Apple as its first client, and Ive says he will "continue to work closely and on a range of projects with Apple." We wish him good luck on his endeavors.
Learn how to enable innovation skill-building at scale here or download our free ebook Kickstart Innovation: A Guide for Organizations.