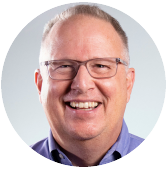 When you're in the midst of facilitation, a good case study about human-centered design can be the thing that gives your participants that treasured "aha!" moment. A great story will entertain and delight, bringing your session to life and relaxing everyone with the knowledge that you've got this. But, what makes a good case study in a delivery? How do you select a story that will both provoke new thinking and inspire people to learn more?
We went straight to the source with our very own Master Facilitator, Tom Merrill, to find out how!
How do you find human centered case studies for your deliveries?
Most of them are from work that I have either done when I was running the Center for Innovation at the university where I worked, or work that I have done with ExperiencePoint over the past three years. A few of them come from our IDEO partners. Our story bank will be a good place to start. Harvard Business Review and Wall Street Journal are some other reliable resources for high-quality stories.





What criteria do you look for when you're trying to connect a human centered case study to your own workshop delivery?

A good story will help participants understand a difficult concept or help to paint a picture of the look and feel of the concept or method. Value your feedback from the workshops as they may tell you whether your stories are resonating or connecting. We often hear something along the lines of "that story really helped me understand [...]" so we know what stories are keepers.





Do you change your case studies when you facilitate to participants in different regions?


I'm always sensitive to audiences outside of North America, who may not understand colloquialisms that are particular to our region. There are some instances, due to political, religious, or cultural nuances where I may choose to omit a particular story that may at best be ineffective, or at worst, offensive.





What kinds of stories impress you the most?


REAL stories. Stories that show how something has been improved, revealed, or give great insight.






What other advice would you give facilitators, especially new facilitators, when delivering a story?
Make the story personal to you. If it is a story that you have taken part of, or even been on the periphery of, that will create a more personal or "real" experience for participants.
---
Want more case studies and stories? Check out our Success Stories page for more tales of human centered design in action!
Looking to teach and scale design thinking by delivering quality training?
Help your people make change with training that sticks!