Based in Calgary, self-proclaimed "Change Management Guy" Lyall Samaroden knows that change and innovation go hand in glove. Through his consultancy Bench Solutions, he helps organizations avoid the pain of change gone wrong by injecting design thinking into the front end.
An ExperiencePoint facilitator since 2011 who has facilitated more than 900 ExperienceChange™ and ExperienceInnovation™ participant experiences (and counting!), Lyall shared some of what he's learned about polishing "diamonds in the rough" and why Hawkins Cheezies are always a great prize—so long as you don't eat them near an open flame.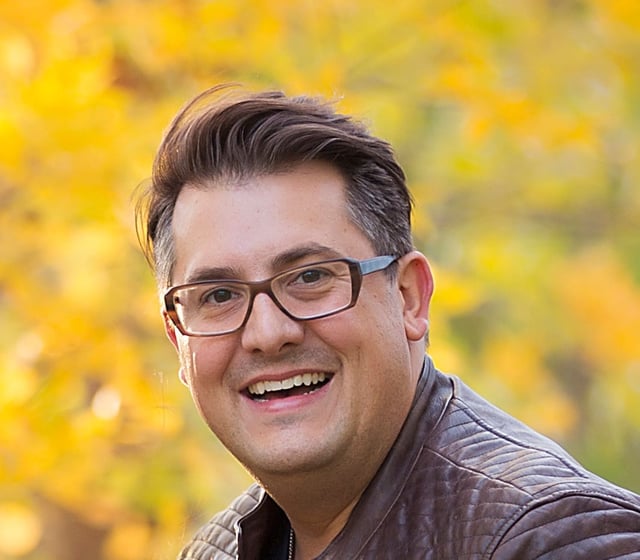 Name: Lyall Samaroden
Home: Calgary, Alberta
Number of Experiences: Over 900 ExperienceChange™ & ExperienceInnovation™ participant experiences...and counting!
Email: lyall@benchsolutions.com
---
What do you love most about being a facilitator?
A lifelong dream of mine was to be a teacher. I decided to go into marketing and business, which was another passion. When the opportunity came about to take what I do as a practitioner of change and design and to do that in a more formalized facilitator setting, it was the perfect blend—it took me back to something I'd always wanted to explore. So I jumped in with both feet. I love to take what I do for a living and translate that into practical tips and tricks for other people so that they can do it themselves.
I always say that working with a change practitioner is a luxury. It's not something that everyone will have the opportunity to do. So if I can take what I know and do and translate that into actionable steps for people who have other jobs, for me that's a great gift to give other people.
Why is teaching change important for your and your business?
I see leaders struggle with change all the time—clients pay me to fix things that are broken when change hasn't been done very well. So I look at instructing as a way to get in front of the leaders and to try to influence them before they make the wrong decision. If I can help them find a better path to help people through change, then I'm not only supporting them and making them better leaders, I'm helping the people who are recipients of change have an easier time. That means I won't be going into organizations where people's resiliency is down and they're experiencing change fatigue because they've been battling poorly managed change. I'd much rather go in and polish a rough-cut diamond than start with a pile of doggy doo!
What has been your most impactful facilitation experience, and why does it stand out?
I feel fortunate because this has happened a few times: I've been in sessions where people have said, this is the best learning experience that I've had and I can quickly translate this into action.
It just happened this morning when I was dropping my daughter off at daycare. A woman who was dropping of her kids said to me, "Are you Lyall?" I said "Yes, I am!" And she said, "I was in one of your workshops a couple of years ago. That was such a great workshop. I still remember it like it was yesterday." Here was someone who I saw completely out of context, but she recognized me and called that out.
I also do a lot of work with the University of Alberta. I do some multi-day programs where ExperiencePoint is part of the delivery, and in one of them, I have people do a "personal exploratory walk." I talk to them about how, when you're in charge, it's not only about what you do but how you show up. So in the conversation about how you show up as a leader, I have them connect with their character and their presence. They literally go outside and do a walk on their own and think about the concepts. I remember one woman brought back a leaf from her walk. It was fall, so it was kind of decaying leaf, and she said, "I used to be a leader who was really green and vibrant and full of life. I've realized that over the past couple of years, I've become like this leaf— frail and a bit brittle and not so pretty—and I need to get back to being the green leaf that I used to be and that I know I can be."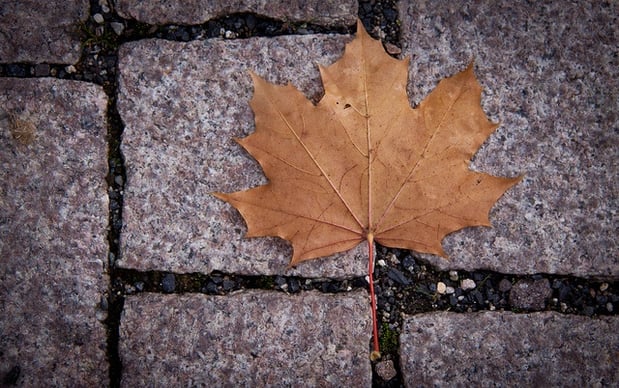 Photo by Chris Goldberg (CC BY_NC 2.0)

It was an amazing epiphany. Here's someone who really took what we talked about to heart and reconnected with what makes her her, and she realized that how she's showing up isn't how she wants to be and how she knows she can be. That was probably one of my most profound facilitation experiences.
What are your future outlooks for both change leadership and design thinking - and the cross-collaboration of the two?
For me, that cross-collaboration is the whole enchilada! To be very candid, the reason why I started to look at design thinking is that I got frustrated with my clients. I was always getting the phone call when things were going wrong. They were calling me after they'd come up with the idea or tried some elements of the implementation and it had fallen flat. And then they wanted me to come in with some magic bag of tricks and make it right. It felt like I was putting lipstick on a pig. So I thought, how can I influence leaders so they're not rolling out pigs? There has to be a better way to find solutions to problems that businesses face, and that led me on the journey of how do you do that with people in mind, and that led me to my discovery of design thinking.
That was about the same time ExperiencePoint was doing work behind the scenes with IDEO. When ExperienceInnovation™ was rolled out, it was just a logical flow for me to start diving into that. I truly believe that that's where my clients are best served by me—when I can come in before they've prebaked an idea and help them with the upfront work of understanding the problem and what's going on so they can design a vision and a solution that's more in tune with what people need.
As a result of that, the change lift is lessened—maybe that just makes me lazy! But I think if we can design better on the front end and get to the root cause of the problem and suss out what people need to move forward in a way that's desirable, viable and feasible, then we're going to have a much easier change journey. So that's where I want to focus. I'm trying to get out of that reactive change space, which is where many organizations that are immature in their change capability are, to working with organizations that look at problems through a people lens. They're able to come up with good solutions that don't bring all the massive change problems with them that can slow things down.
I think these two things go hand in glove, and great change practitioners need to evolve to be more on the front end. That's where I'm trying to focus my practice. I'm also super excited to not just facilitate design thinking but put it into action. I believe the facilitation of design thinking really does lend itself to having teams want to get out there and experiment and try it, so it's great follow-on work. I can go in with ExperienceInnovation to set them up for success and then be there to facilitate the journey along with them.
Where are you off to next?
My next session is in Edmonton, and I'll be working with the University of Alberta. I'm doing a three-day change implementation skills program for HR business partners from all different types of ministries within the Government of Alberta. The following week I'm in Grande Prairie doing a two-day change session with managers from municipalities across the northern region of Alberta.
Then, after about a week break, I'll be back in Grande Prairie working with a utility company, doing a two-day workshop on change with their managers. I'll be helping them build out a change toolkit specific to their needs. We'll use some of the ExperienceChange™ tools as a springboard to help them come up with some templates and approaches that their management community can use for subsequent changes that they roll out.
What would we find if we got a sneak peek into your facilitation bag?
I always have mints for good breath. People in class appreciate that! I also always bring a magnifying glass. I'm Prosci certified, so I'm always mindful of the ADKAR® model. I like to think of ADKAR as my "Inspector Clouseau" magnifying glass. It's a great coaching lens to help you identify what ingredient(s) your change targets are missing on their change journey. When I'm working with leaders and trying to help them understand how people respond to change, I use the analogy that you have to be inspector-like to identify the gaps, and you do that by using your ADKAR inspector magnifying glass. Putting it into practice like that lands the concept much better than just talking about a model.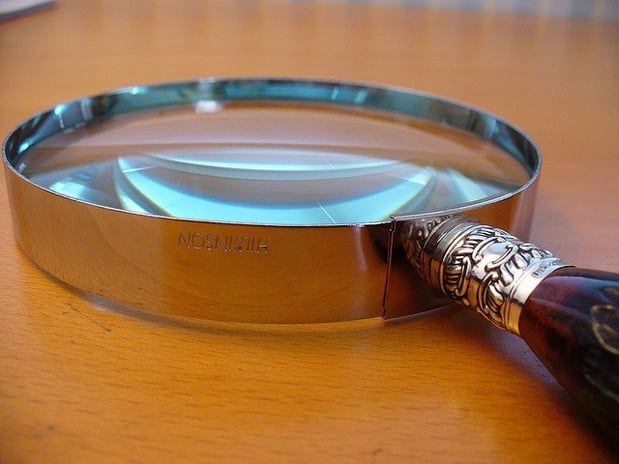 Photo by John Lester (CC BY 2.0)
I also do quizzes a lot in my programs, and no quiz is complete without prizes. I like cheesy prizes, so I always have Hawkins Cheezies on hand to give out as my "cheesy prizes for my cheesy quizzes." And if you don't like to eat cheezies, they double as campfire starters! Really! You can google it! [Editor's note: We googled it. Attempt at your own risk!]
If you could magically gain one quality or ability, what would it be and why?
The ability to not procrastinate! Today, for example, I have a huge deliverable that I have procrastinated on. Every time I do this, I say, why did I wait til the last minute? I wish I had the ability to seize every moment and dive into things that aren't eminently due. I'm the classic procrastinator.
If you could work alongside someone for the day, who would it be?
[IDEO's] David Kelley. I think he's a great orator and really captivates a room. I would really love to see him work with a team and see how he tries to bring out innovation and create an environment where people can bring out their best, but still keep it fun and lighthearted. I think he embodies what a facilitator and a leader should do. He's very casual but inspiring and approachable. I think just being around him you'd want to be more creative and innovative yourself.