(4 min read)
Two years ago, Nicki Affonso-McMorrow relocated from San Francisco to Austin, Texas, to join Dell as a member of the Supply Chain Development Program. Today, she works as an Innovation Senior Analyst. A member of the strategy and innovation team, which formed about three years ago, she completed her ExperienceInnovation certification last August and has been "popping in" wherever design thinking support is needed across global operations. Nicki shared with us her experiences sparking innovation in some of the more traditional corners of "the world's largest startup."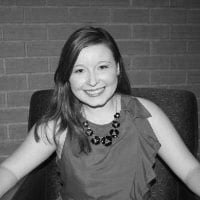 Name: Nicki Affonso-McMorrow
Home: Austin, Texas
Organization: Dell
Number of Experiences: 120 ExperienceInnovation experiences...and counting!
Email: nicki_affonso-mcmorrow@dell.com
---
Tell us a little bit about your role at Dell and what you've been working on.
I'm a member of the strategy and innovation team, and our role is to create a culture of innovation within global operations. It can be challenging at times, because supply chain and manufacturing are very traditional. So, our goal is to look at how do we take the innovative spark that's in our product and our marketing and get it into our supply chain?
My specific role has been to facilitate what we call "innovation engagements" with different teams across global operations—logistics, facilities, sales operations, basically anyone and everyone who wants some help from us. In addition to leading them through the design thinking process, we've used ExperienceInnovation as one of our core pieces of curriculum across the whole organization, so the majority of global operations has been through it.
I recently took my cohort, in the supply chain development program in global operations, through the training and led them through a design thinking project to address a problem. They really loved it, and they have become evangelists of the methodology to help build the culture of innovation.
What does a day in your life look like?
Every day is different, but when it comes to my work with design thinking, a lot of it is popping in at different instances of the design thinking process and providing support depending on what the group needs. That may involve helping to get the brainstorming started, teaching a class or helping a stakeholder prep to lead their own portion of the design thinking process. I also facilitate full-on innovation engagements, where I'll lead a team through the entire process.
What do you love most about your role and being a facilitator?
It's so interesting when you're teaching someone who's more traditional in their thinking, and at first, they're almost an opponent of the process or they don't think it's worth their time. But then there comes a moment in the class where they realize how intuitive the methodology is. You can see the spark go off, even if they sometimes try to hide it! Seeing people arrive at their understanding of the methodology—in whatever way makes sense of them—is really cool.
From your vantage point as an in-house facilitator, do you get to see how the results play out six or eight months down the road?
If it's an innovation engagement, I'll typically get a report outlining the results. From the classes, though, it's become such a key part of our culture at Dell that you'll see people bringing up the principles even in meetings. Sometimes it's obvious—someone gets out a pack of Post-its and markers—and sometimes you'll just notice it in subtler ways, like people saying, "Before we do that, let's talk to some people who are involved in the process."
If we could peer into your facilitation bag, what might we find?
Our whole team shares a facilitation box, and I'm pretty sure it's the original because it's kind of dilapidated! It's a hodgepodge of Post-it® notes, markers, pens, scissors, tape, glue sticks and other random things we've collected. What's funny is you think you don't need some of these things, and then you're in a class and suddenly you realize, hey, glue stick comes in handy!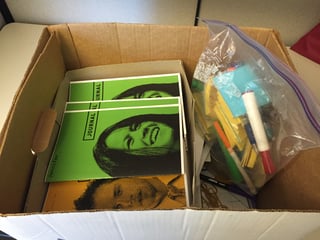 What are you most proud of?
I'm really proud to be working at Dell. Our slogan is "powering the possible," and I love the idea that we're creating things that allow people to do whatever it is they want to do—start a company to support their families, learn something through technology, whatever it is. On top of that, I get to work on a team that's helping create a culture where trying new things and thinking in new ways is okay. I'm proud of my work and my team's work in giving people that confidence and that ability to look at the world differently. We're in a part of the company that's helping our co-workers do well in their jobs, and hopefully, the things we're teaching them will help make their jobs easier, too.
---
How might we use design thinking as a powerful tool for change? Learn the four ways that can help!
Your free PDF download includes our Guide to Design Thinking as a Powerful Tool for Change. Download your copy today!