Rachana Bhide is a Leadership Specialist in New York City, with more than 17 years' experience designing and executing global leadership and change management programs. As a facilitator and consultant, she leverages design thinking, as well as her personal experiences living and working across American, European and Asian cultures, to embed a mindset of leadership and innovation.
When we caught up with her recently, we learned about her passion for diversity in the workplace, how a mini-retirement can change your life and why she wants to play the drums.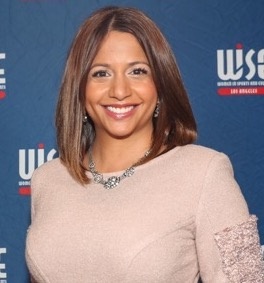 Name: Rachana Bhide
Home: New York City, NY
Email: rachana@rachanabhide.com
---
What do you love most about being a facilitator?
Design thinking is both a personal and professional passion for me. I've leveraged the energy from the Facilitator certification with ExperiencePoint and immediately applied it to my work in change management and leadership. I design workshops and implement projects both in my day-to-day work and also with non-profit teams who want to expand how they approach the customer, client or member experiences.
I've always enjoyed being a facilitator so that I can impart a specific skill to people who don't have time in their own busy functions to devote to practicing. That's what I really love, just giving people the space that they wouldn't normally have at their desks or even while trying to catch-up on the train. There's only so much one can do by reading an article on LinkedIn or in Harvard Business Review. Actually being able to create a space for them to focus solely on self-development, skills development, or personal reflection is why I do this.
It's even more rewarding for me that I have the a lot of freedom to create exercises that encourage people to draw on their own experiences. Adults learn best that way and, of course, it's where the fun in learning happens. I see my role as a facilitator as drawing out of people the experiences that they carry with them every day. The concept of reframing and finding inspiring ideas from the world around us is really, really cool. Design thinking and ExperienceInnovation™ allows us to let people bring the best of themselves, to create something even better for the world.
The culture of ExperiencePoint helps a lot in creating this energy. It can take a lot to convince participants why they should consider design thinking. But because we, as facilitators, didn't read it in a book or learn about it in some generic hotel conference space -- instead, we were brought into your really cool office spaces in Toronto, where everything was so intentionally designed for us as the facilitator of these methods – that energy just feeds forward. I love it.
What are your outlooks on design thinking and change leadership - and the cross-collaboration of the two?
Many organizations are now creating centers of excellence around change management. I think that's tremendous and exciting because it is what all of us who grew up in the change management field in the late '90s dreamt of – that one day we wouldn't need to do this work as consultants; it would become a capability built and refined in-house. That's been happening more and more, especially over the last five years.
What I would love to see, and think will happen in some form, is that those change management centers of excellence quickly become innovation hubs. People doing change management won't be handed a solution and told "go manage this." Instead, they will be experts who can see opportunity in designing new solutions, operating models and cultures. They will instinctively use design principles and allow for change to happen as we are already experiencing it – agile, constant and more rapid than ever.
Now, innovation does need to happen somewhat organically, so I don't want to imply that innovation must be controlled through a center of excellence. But I do think that a core function of innovation allows in-house experts to objectively nudge and push the organization leaders and employees to ask: Are we bringing the best around innovation? Are we embedding a culture of creative thinking? Are we adapting to what innovation looks like for different stakeholders (for example, innovation in a customer-facing sales department, compared to a manufacturing site in a regional location)?
Regardless of where these innovation hubs are placed, a central set of experts should be accountable for continuing to encourage an organization to push the boundaries of what a culture of innovation looks like. We all feel it. We're all working for it. It will happen in the right way. And eventually, these hubs go away because everyone in an organization already acts with this mindset.
What was one of the most impactful facilitation experiences? And why was it so?
One very memorable session was with the Women in Sports and Events (WISE) team out in Los Angeles. WISE is a well-established non-profit network of women in the sports industry, with a mentorship program of extremely high-achieving female executives. They wanted to offer a workshop that would help them learn a new skill and mindset. So they invited me out to Los Angeles to run a workshop on design thinking.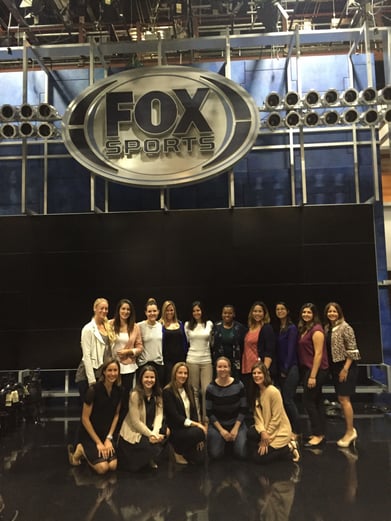 August 2016 WISE within Midpoint 3. WISE Los Angeles. August 2016.
http://wiselosangeles.org/photos/
It was meaningful for a few reasons. First, because it was for the sports industry we practiced the techniques through the challenge of redesigning the fan & stadium experience. That was a really good way for each of these sports executives to draw from their own experiences – and the sports industry has a tremendous amount of opportunity to use design thinking for innovating the customer journey. They pushed themselves to innovate around a singular fan experience – for example, entering a stadium, purchasing concessions, who the individual chooses to attend an event with -- above all, they looked critically at what motivates visitors to enjoy the experience in the first place. Coming from a female point-of-view, we were able to segment additional motivations that may get overlooked in traditional approaches to sporting events.
The second reason it was so impactful was what I just alluded to: because this was a group of women, there was something very cool about being able to talk about innovation, design and change management in a very diversity-conscious environment. It was energizing to be with a group of like-minded ladies who wanted to use these new skills; there was a real call to action they took back to apply the thinking at their various media and sports companies.
And it is worth mentioning that the location was a special treat. We held the workshop at Fox Studios. For me, personally, being from the east coast, to drive onto the lot and be at Fox Studios was awesome! We received a tour before my workshop, and I drew on that to explain that when we do design thinking, we have to reframe our thinking and look at how we live and work in the day-to-day. When you look at a sports studio, from the control room to how they promote the Super Bowl or market a local-market sporting event –not to mention the experience of going on the broadcast set – it helped people think a little bit bigger and draw a lot of inspiration. We were then able to say, "Ok, wow, we're actually in a space to be inspired by all the different ways people broadcast what we see every single day."
They took the challenge of observing the space to heart. The biggest thing that I love about ExperienceInnovation™ and design thinking – and I wrote an article about this – is that companies are so quick to want solutions that we often skip the empathy stage. But the empathy stage is where all the magic happens. Really seeing what a user is doing – those random quirky behaviors that they don't even know that they have – are the nuggets that we can draw insights from.
And there's always a deeper reason; which always goes back to empathy. When the women sent personal notes about the session, one woman said she enjoyed the session most because she felt that I cared about them learning. I realized that yes, I do care and maybe that's what she picked up on. But probably the reason she picked up on it was because, subconsciously, all she was hearing from me was: You have to care about your user. You have to care about your user. You have to think about your user. It was likely less about me and more to do with how that empathy piece really sunk in for her.
Do you have any rituals prior to facilitating?
Yes, I do. The morning of, I draft what the introduction to the group is going to be. I've got videos and industry-relevant examples, but I really want to get in the moment of what they're going to be feeling ON that day, and so I'll usually create the story that morning. I'll get up really early; I'm usually too excited to sleep. I'll wake up early with the intention of standing in front of my mirror and thinking deeply, "What is it that will be compelling to this group, today?"
And for the room, music, of course. One Republic is my favorite mood-setter. Mid-tempo jazz is great for group ideation; Top 40 music is great for hands-on prototyping. I queue these up beforehand. And I tailor music selections to the audience as well. I may have my tried-and-true favorites, but it's all about creating a memorable experience for that particular group, on that particular day.
If we could peek into your facilitation bag, what would we find?
If you look in my bag right now, I have a big stack of blank Rolodex cards. These cards were being disposed of in our supply room and I saw them. Instead of index cards, for certain teams I'll use Rolodex cards, because they're about the same size and stock quality.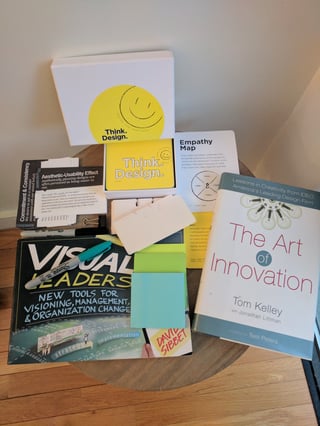 I like using these for a couple of reasons. If a stack is placed in front of you, and you're of a certain demographic, you know immediately that these are Rolodex cards; you know exactly what they used to be used for, and you may have stories of how you once carefully (or not) curated your rolodex list. If you are of a different demographic, you wouldn't have any idea what these are, and would have to really empathize to understand just how important the Rolodex was in business once-upon-a-time.
I know that innovation can be daunting, especially when you are a seasoned professional with a long history at a company; so it is important for me to put out there that innovation can happen regardless of whether you're five or 50. So the Rolodex cards are a nice metaphor to get people talking about different generational experiences and the empathy required when observing users. Furthermore, they show we can draw inspiration from everyday things that we may have once overlooked; that I've repurposed these Rolodex cards as index cards is kind of a fun way to do that, and it makes it a little less corporate and more organic.
What are you most proud of?
I just learned a new term yesterday: mini-retirement; which is another word for a sabbatical or a life pause. I am most proud of the two major life pauses I took, and what doors they opened for me.
One was to take my two accrued months of vacation (I hadn't taken a vacation in a while) and move to Munich, Germany. I enrolled in a language program, lived in a dorm, learned German and traveled with new friends from all over Europe. That experience led me to then work for four years out of the Frankfurt office, and to lead the capability development for the Austria/Switzerland/Germany change management consulting region of my old company.
The second was a deliberate pause to go to London and study fashion for three months. It was really my first opportunity to "legitimize" all of the creative metaphors I'd had in my head about how people are influenced and what makes people excited about a product or a change. A lot of those metaphors I found in studying fashion, like: Why do people get excited about a luxury brand, or how do people follow trends? Who are the influencers in each field? What's the culture of these storied fashion houses? How do designers create fresh, new ideas that we consume? This was probably the "soft launch" of my career in design thinking facilitation.
I'm really proud of the fact that, when it was time for me to take a purposeful pause in a career to recharge my batteries, I used each as an opportunity to learn a totally new skill that opened doors for me to directly tie back into the work I do around change and innovation.
If you could wake up tomorrow having gained one quality or ability, what would it be and why?
I would love to wake up and know how to play the drums. I think that being able to play a musical instrument gives you a completely new way of looking at the world, of seeing unseen patterns and being able relating to other creatives. There's a whole section of my brain I feel could be awakened and exercised if I knew how to properly play a musical instrument.
The reason I'm interested in the drums is that I've heard that the drums set the pace and direct the beat for the whole song. So there's a lot of leadership in being able to play the drums and play them well. Also, the drums are physically positioned in back of the band; while facilitators are often in the front of the room. Yet, our job is to be the backbone of the learner experience. So I don't want to be the lead singer or a guitarist. I would want to control the pace from the back, to let others play their instruments and create something magical! Maybe this should be my next mini-retirement (#goals)!
If you could work alongside someone for the day, who would it be and why?
I would work with my father, an architect. He's retired now, but he's still doing architecture work. He splits his time doing architectural projects in Washington, DC and Mumbai, India.
It's so inspiring to see that he is still deeply committed to his craft and doing pro-bono design work for non-profits. I love that. It would be inspiring for me to be able to go back in time to when he was my age, or maybe even to when he was first starting out, to see what it's like to be a designer and architect. I think it would uncover a lot of meaning to why – even though I went into leadership psychology – I've always been fascinated by design and spaces.