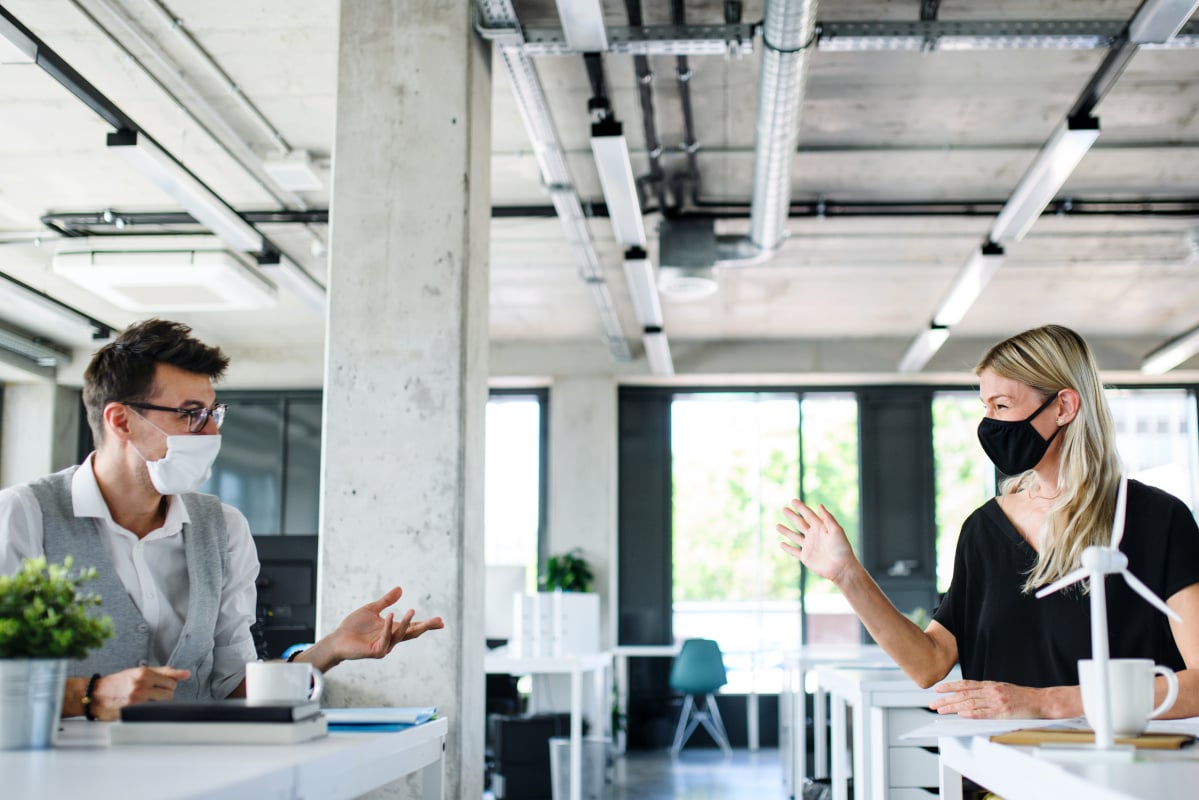 As offices around the world roll out return-to-work initiatives, with many revising their plans in tandem with second waves and restrictions, it's important to reflect upon what has worked so far to inform our best practices into the future.
While our team at ExperiencePoint has always specialized in designing and deploying change and innovation workshops to help businesses tackle complex issues, that doesn't mean that we are immune to complex issues ourselves.
We, along with the rest of the world's workplaces, have set a return-to-work plan in motion, but in keeping with a human-centered method, we know that our plans have to be revisited, refined and revised based on both local policies and the all-important needs of our people.
Here are some of the behind-the-scenes takeaways thus far from our own experience:
We considered our extreme users
In creating our own unique return-to-work plan, our HR department saw it important to take a page from the human-centered design handbook and interview those who would be considered 'extreme users' of our office environment.
The UX Collective defines extreme users as "the people on either end of the spectrum of users of a product or service," so in this case we spoke to and gathered information from those who would be absolutely unable or unwilling to return to the office, and those who were passionately hoping to come back.
As with any extreme user process, this allowed us to gain empathy from both sides of the return-to-work equation, and to build our plan thusly. Being a virtually-compatible workplace from the outset, we determined that there was no particular business case for a mandatory return, and thus began to brainstorm and build a more robust plan around those hoping to come back.
We were candid throughout and open to feedback
A crucial priority for our company has always been communication and candour — both of which have come into significant play throughout the pandemic and when considering our return-to-work plan.
In the months leading up to its deployment, we regularly encouraged both questions and feedback from all of our team members both in meetings and through surveys and kept them abreast of all and any of the decisions that were being made around this process.
Striving to empathize with the many anxieties that would naturally arise from this period of uncertainty and great change, we also ensured through repeated communication both in our town hall meetings and all-staff emails that any return-to-work initiative would not be mandatory and that there was no pressure to come into the office at any point.
We were also not shy to ask questions ourselves and to take notes from other companies who had recently rolled out back-to-work initiatives, embracing the notion that no one is an expert in this new realm and welcoming collaboration and learning from all sides of the workforce spectrum.
Finally, as part of a human-centered effort, the HR team endeavored to always be candid with any gaps in their knowledge and to never give false answers to questions. As such, if a question was posed that they didn't know the answer to, the team would readily admit that they didn't have the answer but commit to finding out as soon as possible and getting back to that person and the team.
We innovated around our in-office culture and practice
Benefiting from the human-centered design method, we endeavored through brainstorming, interviews and feedback to introduce some of the in-office practices that have always made ExperiencePoint unique, into the realm of a new world.
Through the feedback of one our staff members, we evolved what was originally a distanced classroom-desk floor plan (in our large and open meeting space) to one that would create a distanced circle around whoever was speaking. This promoted the collaborative environment that ExperiencePoint has grown so used to in a new and safe way.
We moved to change guidelines around meetings, so that if a numbe of team members chose to hold a distanced meeting in the office they would have to continue to bring in a laptop and connect via Zoom, to allow those who stayed at home to see each face and not feel disconnected from the collaborative experience.
Finally, we worked to pivot many of the team-building exercises that have kept us bonded through the years into the virtual realm. This included our regular Rapid Ring of Fire game that was played in-person each time we welcomed a new staff into the office. We have and will continue to play this improvisational icebreaker on Zoom and have received plenty of positive feedback around our attempts to keep work culture alive despite distances.
Like organizations across the world, we are entering this new world as newcomers but embracing the possibilities that arise from periods of uncertainty. In building and innovating around our new workplace, we will continue to use the human-centered method to guide us in developing, revisiting and redeveloping our return-to-work plan.