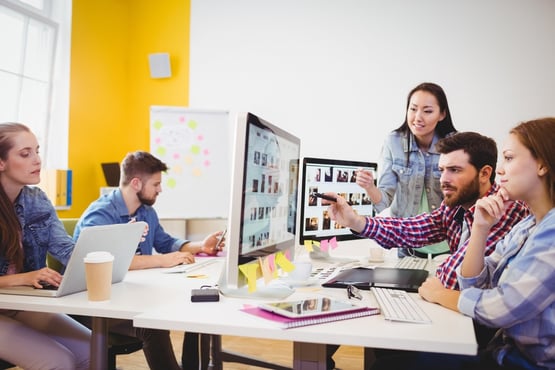 Innovation is the crucible from which great companies are born. But innovation doesn't just happen. The most disruptive companies are constantly looking for ways to foster innovation in the workplace through unconventional management styles, employee challenges, training programs and adaptive office environments.

While every company needs to tailor its path to innovation, here are a few approaches that have driven business success in some of the world's leading organizations.
Flatten Out
As businesses grow, a corporate chain-of-command naturally emerges, creating a pyramid of executives, managers and employees. While this structure is a handy tool for HR, it can hinder creativity and communication – which is why many of the most innovative companies are letting it go. Companies like Zappos, Tesla, and W.L. Gore (inventor of Gore-Tex) are eliminating hierarchy to create a level playing field where everyone's ideas carry equal weight.
At Gore, for example, no-one holds a title that places them above or below anyone else, and every employee has one or more sponsors who act as their coaches, mentors, and personal promoters to ensure they get the support they need to thrive. Zappos relies on holacracy, a flat management approach in which power is equally distributed, and roles are defined by the work not seniority.
Tesla has also been diligently flattening its hierarchy, eliminating roadblocks and speeding up innovation. Last summer, CEO Elon Musk sent an email to all of his employees encouraging them to reach out to anyone in the company, including himself, if it would speed up their ability to solve a problem; and earlier this year he announced plans to flatten the management structure to further streamline progress. "We obviously cannot compete with the big car companies in size, so we must do so with intelligence and agility," he wrote.
Strive to Fail
What do Post-It Notes, Penicillin, and Pacemakers have in common? They were all products that resulted from a prior failure. Failure is a great way to learn lessons, and push ideas in a new direction. It is also the hallmark of an organization that challenges its people to take risks – which is a necessary part of innovation. When employees are given the space, resources and encouragement to push their ideas beyond what's known or expected, sometimes they fail and that is okay.
Business leaders who want their teams to produce groundbreaking ideas need to make failure an acceptable part of the process, then create strategies to capture lessons learned so the next iteration can go even further.
Make Time for Innovation
Employees need time and space to be innovative, and they can't do that if they face an endless barrage of day-to-day deadlines. If you want innovation, you have let people know its okay to step away from the daily grind.
At 3M, researchers are expected to spend 15 percent of their workday on a hobby or pet project, and Google encourages engineers to spend one day a week (20 percent) working on projects that aren't in their job descriptions. This freedom to innovate has helped both companies build disruptive new products and has landed them on the list of most innovative companies year-after-year.
Make it Fun
Instead of directing employees to be innovative, challenge them. Hackathons, contests, leaderboards and other competitions are a great way to get creative juices flowing and to get employees excited about generating new ideas.
Take a cue from companies like Atlassian, the collaboration software company, which hosts quarterly ShipIt Days events where employees get 24 hours to build a solution to any problem. The teams then present their ideas to the entire company and many of the winners get built.
Or Turner, the global construction company that runs an annual innovation summit where employees submit ideas for solutions to business problems and the top ones win cash and mentoring to implement them. In 2017, one of the participants came up with an idea to use virtual reality goggles to help customers "see" their buildings in the design phase and suggest changes, which has saved the company hundreds of thousands of dollars.
These events send the message that company leaders value employee ideas, and encourage innovative thinking. It not only generates individual solutions, it creates a culture where big ideas have a place to take root.
All of these strategies require some level of organization change, which takes time and significant leadership commitment. But when businesses create the space, support and enthusiasm for innovation, they can reap big rewards.