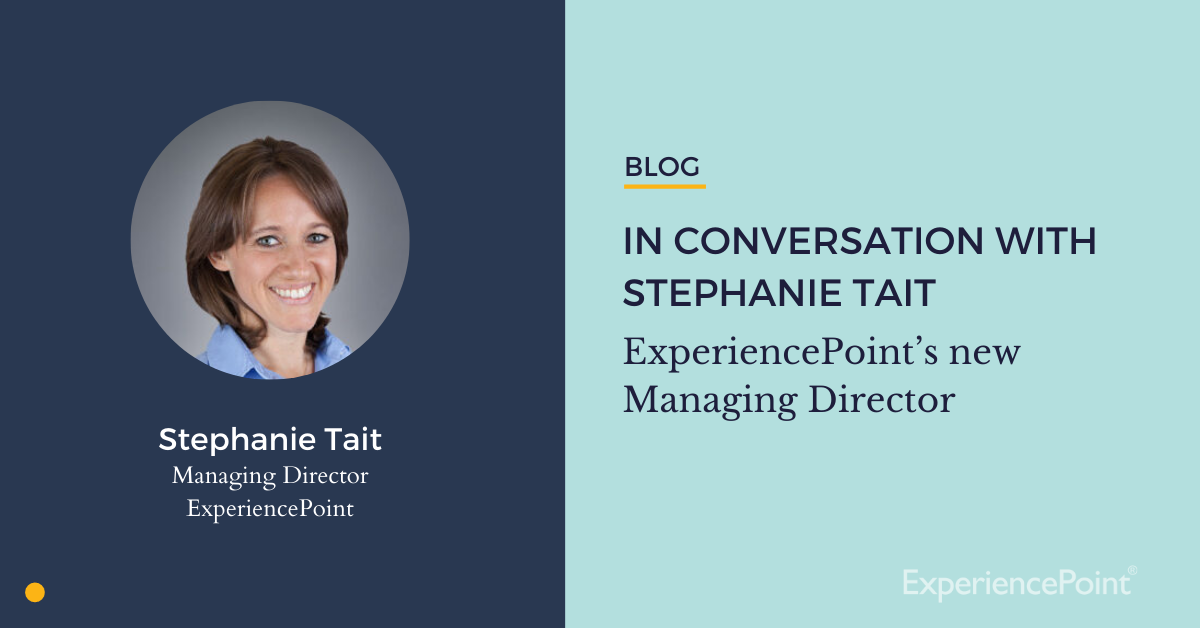 As ExperiencePoint's new Managing Director, Stephanie Tait has been tasked with leading and developing the strategy process that will underpin ExperiencePoint's growth. A five-year veteran of the organization, Tait has previously served as a Master Facilitator for the company as well as its Director of Delivery, and brings a rich professional history of Coaching, Consulting and Learning & Development expertise to the role. A doting mother of two, a proud wife, an MBA-holder and a Meritorious Service Medal recipient, here's what's at the top of Tait's mind as she takes on this new role in a new reality:
Welcome back to ExperiencePoint and congratulations on two months down in your new role! How are you feeling so far?
First let me say I'm delighted and truly honored to lead EP's growth in this next stage of our development. I'm a big fan of American businessman and philanthropist Ray Dalio, and in his work book "Principles" he often talks about 'wanting the problems you're solving'. By this he essentially means that everyone encounters problems, and although it's often hard to see them this way, each and every one of those problems is an opportunity. What I like most about being asked to lead ExperiencePoint is that I like the types of problems we're needing to solve. Like many other businesses, we have a huge number of opportunities for growth and numerous exciting new ways that we can create value in the world.
From your perspective, what are some of those standout challenges, or opportunities, that are currently on the horizon for ExperiencePoint?
If you think about the place that the world is at right now, industries are completely changing, companies are completely changing. I mean, I don't go to the grocery store anymore, I don't go to the LCBO anymore, I don't even go to a gym anymore... Like so many others I'm able to do all of these things from the comforts and the confines of my own home. Our whole lives are changing right now and we're going through this universal period of mass transformation, rapidly — and that's just where EP does its best work. These times were built for EP! So, that's what I'm most excited about. If there was ever a time for us to be in existence and support clients, now is that time!
Having been a part of the ExperiencePoint community now for five years, what in your opinion sets our delivery apart, especially in the context of those new realities?
Often when clients are going through a transformation — which is happening en masse more today than ever — this is something they have to do. It's not a "hey wouldn't a change be nice" scenario. In this sense, it can be a painful process. Yet so often when clients work with us, it's not only a surprisingly enjoyable process, but also a career highlight where real and lasting relationships are formed, and where real, lasting change can result.
And since that time that you came on board, what would you say has changed the most about ExperiencePoint and what has stayed the same throughout?
What has changed the most is just how much sharper our client focus has become. This was already important in the early years of my time here and enabled our business to grow. But our clients have never been faced with greater challenges, in all respects, than now, so that's required EP to 'up its game' in this regard too. We want to be held accountable for the delivery of change and transformational experiences. When I was hired the focus was on delivering the best workshop ever, and of course that's still a priority, but time and experience has allowed us to broaden that focus to the client journey as a whole.
What hasn't changed, and one of the reasons why working for ExperiencePoint has been the best experience of my career, is the culture and the people at EP. We have a supportive but no-nonsense leadership style that values honest truths and transparency, and one that starts right at the top. It is true that our people are our greatest asset and our management approach helps our people feel psychologically safe to do their best work, knowing the bar is set to a high but achievable level. Especially with the pressure that's on businesses now, and on individuals, there is a sense of camaraderie and support here that makes our team feel like a family of professionals.
What do you perceive as your greatest strength coming into this role?
My greatest strength is that I love this business.
I know our client experience and our people through-and-through. I've worked with the team to deliver our products for a range of clients. I've worked with the team to prototype our products and bring them to market. I've worked with the team to certify people to deliver our products. I've worked with the team to build our certification system, and so on. Through these experiences, I've developed a genuine love of this business, which is my greatest strength.
Looking forward, what do you foresee in ExperiencePoint's future and what are you most excited about?
Rapid change brought on by technological advancements, shifting markets and the impact of the global pandemic — that's where EP's future lies. Right now, as economies rebuild themselves and whole industries go through transformations in all sectors from medicine to insurance, from education to fitness — you name it — that's where we can help, that's the future for us. We're in a time requiring sustainable innovation and change, and we're also in a time when people want to feel empowered. We're not coming in and telling you what to do, we're helping our clients to develop those capabilities themselves. That's where I see the future for us.
What are three things people may not know about you?
Well the first thing that comes to mind is that I've gone through my own personal transformation since starting at EP. When I came on board I wasn't married, I didn't have any children and just wanted to deliver, as I'd mentioned before, "the best workshop ever". Five years later I'm married to my awesome husband and we now have two beautiful young girls and I'm in my role now and focusing passionately on the entire client journey. So change and transformation — these are concepts that I'm very familiar with.
Second thing I'd mention is that just over three years ago I earned a Meritorious Service Award from the Governor General of Canada for Run for One Planet, the charity that I started with my run partner. We spent a year running 11,000 miles around North America, speaking to over 30,000 kids at over 200 presentations, to inspire environmental action. We invested funds raised by the initiative with the Vancouver Foundation, which now provides seed capital to finance youth-initiated green projects across Canada.
Thirdly, I'm from Vancouver — I'm a West Coast girl at heart and still have family and friends there. I've also lived and studied in the UK both in high school and university, and have travelled extensively to many parts of the world.
What are a few runner's tips you can share as someone who has, as part of your charity, run 11,000 miles across Canada and the coastlines of the USA?
First, "small steps add up". That was the motto of our Run and pretty much describes the approach we took to complete that odyssey. Two, go slow. If you run too quickly, you'll burn out your energy stores and the long-term benefit of running may elude you. And three, eat good fats not carbs. Carbs don't last, so if you eat long-burning energy foods such as avocados, cheeses, bacon and eggs, you'll be able to endure longer.
Any last thoughts you'd like to add?
There's another Dalio quote that I can share, that would be applicable to everyone at ExperiencePoint. It's a work principle that says, "Treasure honorable people who are capable and will treat you well even when you're not looking". That is ExperiencePoint to me, namely the people at ExperiencePoint — you can't put a value on that. It's extraordinary how we've been able to gather this incredible and supportive community of people, I've never experienced that anywhere else.