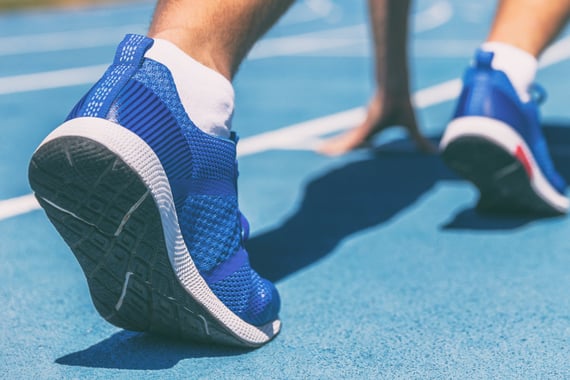 How many people do you know who are consistently motivated to go running? For many of us, the act of going for a run is a tedious proposition and an activity that can bring pain if poor form, poor equipment and a sedentary lifestyle come into play. Most ardent runners would say, however, that when your body is moving in the proper way and you get into the groove, it can be a very cathartic experience.
To take the guesswork out of proper form and add a spring of fun to each step, running brand NURVV has recently released a biometric insole designed to give users consistent feedback during and after workouts.
NURVV founder Jason Roberts had his sights set on a more useful way for runners to collect and interpret data about their running habits beyond what could be provided by a wristband. He utilized the human-centered design process to identify a common pain point for runners then went on to devise an innovative solution.
As referenced in Gear Junkie, Roberts says, "Runners are able to collect a huge amount of data about each and every run they do. However, most of what they capture is historic, inaccurate, and provides few insights on how to be a better runner. NURVV will revolutionize how people run by accurately capturing the metrics that matter most."
So how exactly does this technology work? The answer is in NURVV's biometric insoles. Before each running workout, users slip the insoles into their running shoes and when they take off on their run, the data rolls in.
According to Mobile ID World, the insoles contain 32 biometric sensors that have the ability to collect data at 1,000 times per second, per sensor. The NURVV app collects that data and crunches those numbers, giving immediate feedback on cadence, foot strike, pronation, balance and step length.
Recognizing that runners often love their stats, the technology enables them to analyze their data after or during their run and to make corrections to their next workout or even their next mile. The app also provides an in-run coach who can help users stay at a certain pace, beat a personal record or to change form. Want to know if you're landing too hard on your toes while you're running? The in-run coach will tell you how to change your form on the fly.
Running doesn't have to be tedious. NURVV has successfully used human-centered design to make sure everyone has the opportunity to run correctly and without pain. Having launched recently at CES 2020, NURVV is slated to become a household name for hardcore and hobbyist runners alike.
Learn how to enable innovation skill-building at scale here or download our free ebook Design Thinking 101.