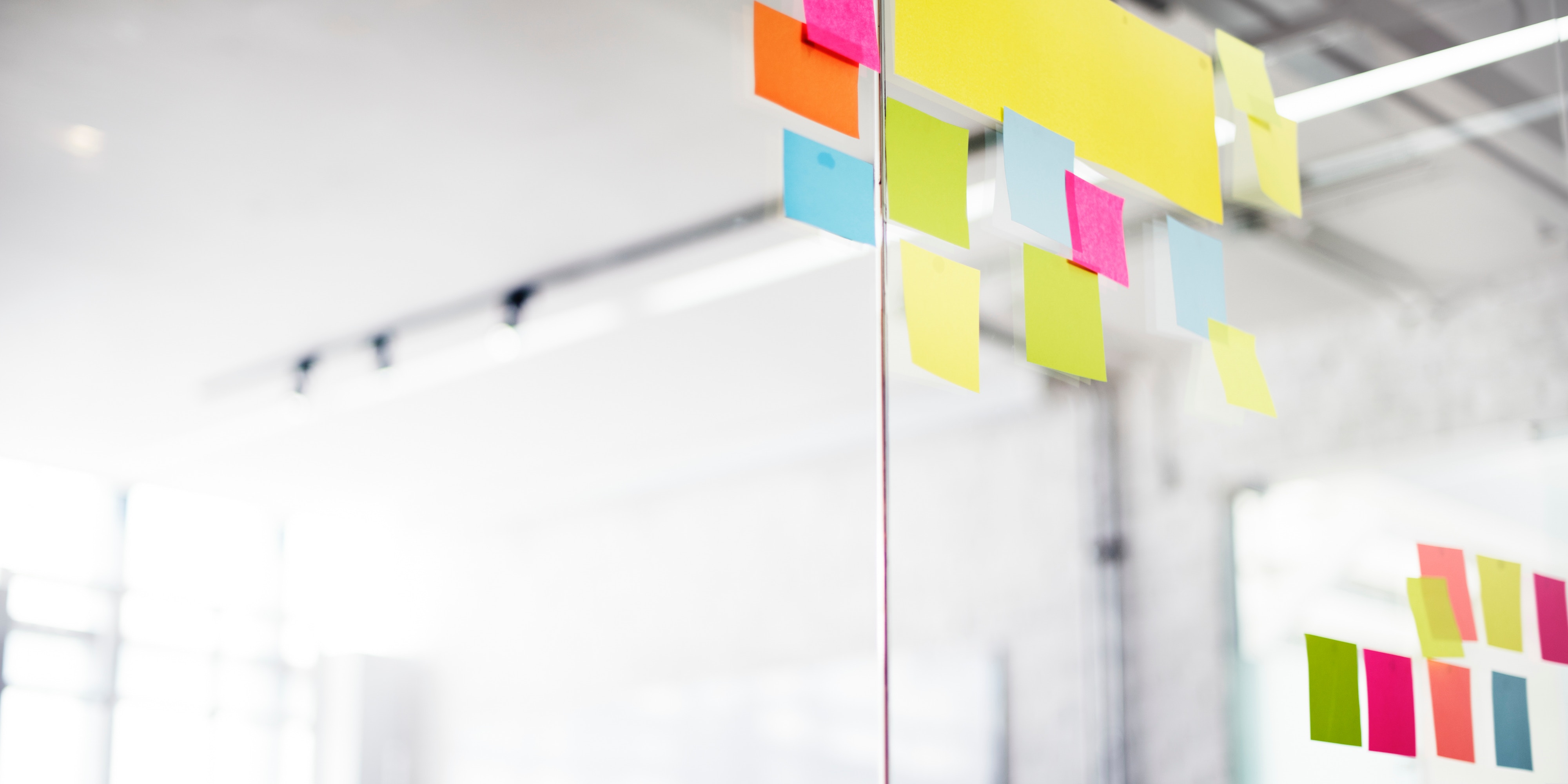 Last month on a flight to Los Angeles, I overheard two strangers sitting in front of me talking about how they were both heading to LA for a training workshop and they weren't happy about it. For 10 minutes they grumbled to each other about how much they hated sitting through training sessions and what a waste of time it was. Fortunately, they were not in the workshop I facilitated the following day.
These kinds of preconceived notions about what training is and what it will be like is a constant obstacle for facilitators. Participants envision hours of being lectured to in a darkened room by a presenter who drones through an endless slide deck, while students surreptitiously check their phones.
Fortunately, most participants learn in the first five minutes that a design thinking workshop isn't like other training they've participated in before. From the moment they walk in they will be engaged, challenged, laughing, (maybe) singing, and learning skills they can apply the following day. But it would be nice if they knew that before they ever walked through the door.
So to pre-empt the learning process, I offer these insights into what a design thinking workshop actually involves, and why you should be excited — and maybe just a little bit afraid (in a good way) — to attend.
There will be no lecture, but much dialogue. In my workshops there is very little "Luke talking" and a whole lot of "teams doing," so get ready to participate. These events feature group activities, interactive brainstorming and problem-solving, to help participants fully experience the joys of the design thinking process.

You won't be accused of messing up. When people are sent to training, they sometimes assume it's because they are doing a bad job. But that is not the case in a design thinking workshop. Think of design thinking as another tool in your toolbox. It's a way to help already successful people challenge themselves in new ways, and to try a different approach to solving problems that are complex, meaningful, and human-centred.

You will work hard the whole time and it will be exhilarating. No one ever sits quietly through a design thinking workshop. Everyone is expected to engage, often in ways that make them a little uncomfortable at first — yes, you will be asked to draw pictures, shout-out ideas, and play games. But in the end it is this interaction and collaboration that makes design thinking workshops meaningful and memorable, even for the executive who insisted it would be a waste of time.

You will not have time to check your phone. In a design thinking workshop, you have to be present the whole time or you will hold your entire team back — and nobody likes to have that person on their team. So we ask participants to close their laptops for THE ENTIRE TIME. Yes, there is the occasional busy exec who can't abandon their screen time, but even when they get calls, we ask them to leave the room.

It will be relevant to what you do. Many people come to a design thinking workshop assuming that if they aren't part of a design team they have no use for design thinking. They are wrong. Anyone who's ever had to solve a problem, work on a team, or consider what a customer might need from the business will benefit from design thinking. So whether you sit in the c-suite, spend your days on a marketing team, or hold virtually any other job in the organization, you will learn something that will help you do your job better.

You are here to learn new strategies, not tackle a current problem. Our goal for every workshop is to pull you away from your day-to-day job so you can immerse yourself in a new way of looking at challenges and overcoming them. If you come to the workshop to solve a problem that you are already deeply familiar with it brings bias to the process, which makes the learning less effective. But you can be certain that the tools we use in the workshop are relevant to the work you do, and that they will give you fresh insights into how to solve the problems that are plaguing your team.
As you can see, there's no reason to grumble about a design thinking workshop. You'll have fun, challenge yourself and emerge with newly found tools you need to innovate and creatively problem solve.
Learn how to enable innovation skill-building at scale here or download our free ebook Kickstart Innovation: A Guide for Organizations.
Luke Brodie is an enthusiastic Master Facilitator with ExperiencePoint. He energizes groups of business leaders through spirited deliveries of award-winning ExperienceInnovation and ExperienceChange workshops for Fortune 500 companies. He also empowers training partners to scale their impact around the globe. Luke holds an MBA from the Ted Rogers School of Management at Ryerson University and has worked internationally in a variety of professional roles including airline management and as a professional musician.