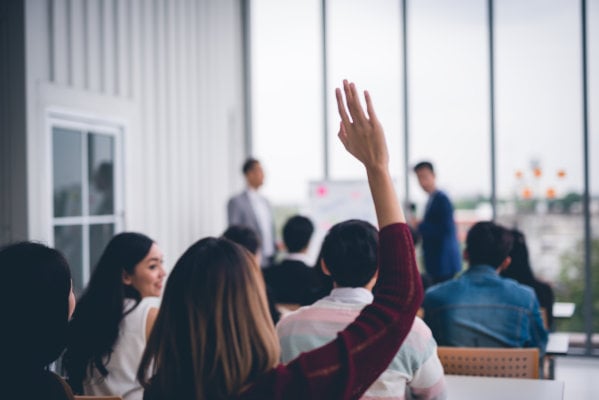 So you've heard the stories about how design thinking can spur creativity and innovation, and help drive organizational change, but you aren't sure about how it all works. You're in luck.
ExperiencePoint's founder Greg Warman, and Andrew Webster, VP of Transformation, recently hosted a webinar entirely around answering participants' questions about what design thinking is and how they can make it part of their business strategy. You can listen to the entire webinar here — in the meantime, here are some of the big questions that Greg and Andrew answered.
Q: How is design thinking similar to other strategies we already use in our business and our careers?
There are definitely overlaps between design thinking and other methodologies, particularly with agile development, which follows similar principles, such as timeboxing, diverse teams and quick iterations. The difference is that design thinking takes a human-centered approach to problem-solving. By following the six phases of design thinking, teams have more opportunities to interact with customers, to empathize with their needs, and to generate and test solutions that solve their challenges in new ways. It can have a profound effect on how teams brainstorm, collaborate, and think about the customer experience.
Q: What are some of the work situations in which design thinking is an appropriate tool to use?
A good design thinking challenge has three criteria:
The problem needs to be complex with no obvious solution that has been proven in the past.

It needs to be meaningful. Maybe it's a problem where progress is long overdue, or it is a critical problem that will determine the future of the business unit. People need to be excited or eager to see progress made.

The problem must have a human element. This is the most important criteria for using design thinking. It means that human behavior will be key to driving the desired outcomes, and by changing that behavior you have an opportunity to make an impact.
It's also important that the problem you're working on doesn't focus on justifying an existing solution. Design thinking should help you explore new ways to address user needs.
Teaching design thinking to anyone in the organization adds value because it gives that person a new toolkit to solve big, complex, human-centered problems. However, several studies show that the most successful organizations invest in design thinking as a broad capability rather than a skill set isolated to one small specialist group. These include McKinsey's 2018 design thinking report, which found companies that consistently follow design thinking practices generate roughly 32 percent more revenue and 56 percent higher returns for shareholders than those that do not.
These are the kinds of numbers that grab stakeholders' attention. Combining them with compelling narratives about how design thinking solved a specific problem, or drove new innovation in the workplace — for you or another organization — can make for a powerful business case that is tough to turn down.
Q: How do you measure the success of a design thinking initiative?
The best ways to measure the impact of design thinking are to look at behavior change, perception change and project impact.
Behavior change is reflected in examples of things done differently as the result of a specific project, or changes in the way problems are solved as a result of learning design thinking methods. Are people brainstorming more? Do they engage customers as part of every project? These are signs that design thinking is working.
Perception change is the way we view ourselves and how others view us. This kind of change is most often measured through employee surveys and net promoter scores that show increased engagement and improved customer experience.
Project results can be measured in terms of the outcomes of specific design thinking projects. It may be new customers attained, dollars or time saved, new revenue streams, etc.
When considering measurements, remember that behavior change will be your leading indicator, whereas project results, especially those resulting in new revenue or sales, are a lagging indicator that could take more time to show up. But any measures are a good step in proving the impact of design thinking on your organization, and winning over skeptics who struggle with organizational change.
If you missed it, you can watch the recording of the webinar here: