Business magnate Warren Buffet perfectly articulated the power of customer experience when he said, "It takes 20 years to build a reputation and five minutes to ruin it. If you think about that, you'll do things differently."
Bad customer experience can take many forms - from a rude salesperson to a product that doesn't work. They leave consumers with a negative impression that can forever haunt your brand. A PwC study of 15,000 consumers revealed that 1 in 3 customers would leave a brand they love after just one bad experience, while 92% would abandon a company after two or three negative interactions.
In today's hypercompetitive business world, companies that deliver poor customer experience risk losing sales, credibility, and employees. This blog looks at what all bad customer experiences have in common and offers concrete ways to improve through every facet of your organization.


What makes a customer experience

'

bad

'?


It's Company-Centric





Poor customer experience prioritizes company needs over user needs. Silos, timelines and bottom lines are given precedence over ease of use and memorable experiences. As a result, those that deprioritize consumer needs are set up to fail before ever interacting with customers.





It's Incomplete



Bad customer experience doesn't consider the customer journey a progression of touchpoints with a defined beginning and end. It concentrates too much on individual touchpoints and doesn't recognize the internal and external effort required to provide an all-encompassing experience.



It's Painful for All Parties





When an employee is plainly embarrassed by their service or product quality, customer experience is bound to be poor. Many organizations feel trapped by inefficient systems and practices because they think alternatives don't exist or switching costs are too high. This inability to provide a comprehensive customer experience, which starts with employees, bleeds into workforce culture and hinders success.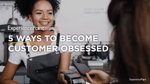 Free eBook
To learn more about customer-centricity, download our free ebook:
5 Ways to Become Customer Obsessed

What makes a customer experience 'good'?

It's Customer-Centric



Good customer experience embeds

empathy for the customer

into all processes and products right from the start. It studies a consumer's behavior, pain points and feedback and translates them into a product's intended capabilities, appearance and ease. With this approach, customer needs are always prioritized over an organization's bottom line.



It's Journey Based



Good customer experience also caters to customer needs at every stage of their journey. It considers the complete end-to-end experience and pushes employees to deliver consistent value. One of the best ways to enhance customer experiences and differentiate your business from competitors is to provide your customers with added value beyond a single touchpoint like the point of purchase.



It Starts with Good Employee Experience





What happens on the inside of your company affects what consumers experience outside. Companies that provide stellar customer experience recognize that it starts with cultivating good employee experience first. Happy employees are the key to creating happy customers.





How to best approach customer experience


The best approach to enhancing customer experience is by building a customer-centric culture from top to bottom: C-suite to front line. A customer-centric culture ensures that goals are clearly established, leaders celebrate customer successes, customer behavior is easily understood, key performance indicators (KPIs) track behavioral change, and customer experience is tied to business revenue. Furthermore, a customer-centric culture inspires employees from all levels to understand their role in terms of broader purpose, demonstrating that customer experience is not just a metric on a dashboard but an output of multiple efforts.
Design thinking is a human-centered approach to problem-solving that helps enhance customer experiences. The foundational principles of design thinking like empathizing with customers and observing extreme users lend themselves to enhancing customer experience. When broken down into daily practices, design thinking helps employees contribute to a customer-centric culture that produces a more customer-centric experience.



A leader's guide to the changing

landscape of customer experience


The ability of your workforce to create superior customer experiences marks the difference between falling behind and thriving. That's why it's important to build a customer-centric culture throughout your company; this can be challenging when there are only one-off courses, new shiny tools, or friendly consulting engagements that won't last for long. The system you need embeds customer-centricity into your organization's DNA and unleashes creativity in everyone - permanently!
ExperiencePoint is your innovation training partner to help scale and sustain a workforce-led transformation. Your teams will learn the essentials of design thinking via hands-on workshops, simulations, and digital learning modules. Unlike consultants, ExperiencePoint helps your organization scale innovation across the company through internal change agents who train and sustain communities of practice. With the right tools and methods, teams can apply design thinking to their daily work and achieve real business impact.
Stay tuned to discover how ExperiencePoint helped an American 'soda giant' enhance its customer experience by building a customer-centric culture in our next blog.